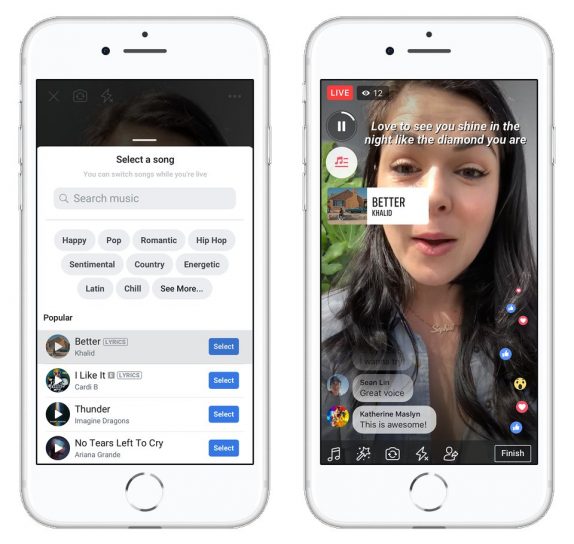 Facebook has launched the ability to add Music on Facebook Stories and is expanding Lip Sync Live, and soon will be making it possible to add songs to your Profile. With this new additions, users can add a song to photos and videos they share to Facebook Stories.
To add music, just take a photo or video from the Facebook Camera or chose one from your camera roll, then tap on the sticker icon and select the music sticker. Once you find the song you want to add, you can pick the perfect part to share and add the sticker with the artist and song name. Move the sticker around and add other stickers and effects to customize your story.
Facebook is also rolling out Lip Sync Live to all profiles in many countries around the world. It is also opening up the feature to more artists and creators by expanding to Pages, giving them more ways to connect with their fans. After collecting feedback, Facebook is also starting to add lyrics to Lip Sync Live which are rolling out from today, and are available for songs including Dua Lipa's "New Rules," Khalid's "Better," and "Girls Like You" by Maroon 5. We'll be adding more soon.
The company even confirmed that it will soon launch the ability to add the songs that you are currently listening to, or your all-time-favorites — to a new music section on your profile. You can also pin a song to the top of your profile to share with friends and help them learn more about you.
Songs added to your profile will also visually showcase the artist and track you choose. When someone plays a song on your profile, they'll hear a clip of the song and see an accompanying video featuring photos of the artists and album art. They can then choose to add the song to their own profile or visit the artist's, Facebook Page.