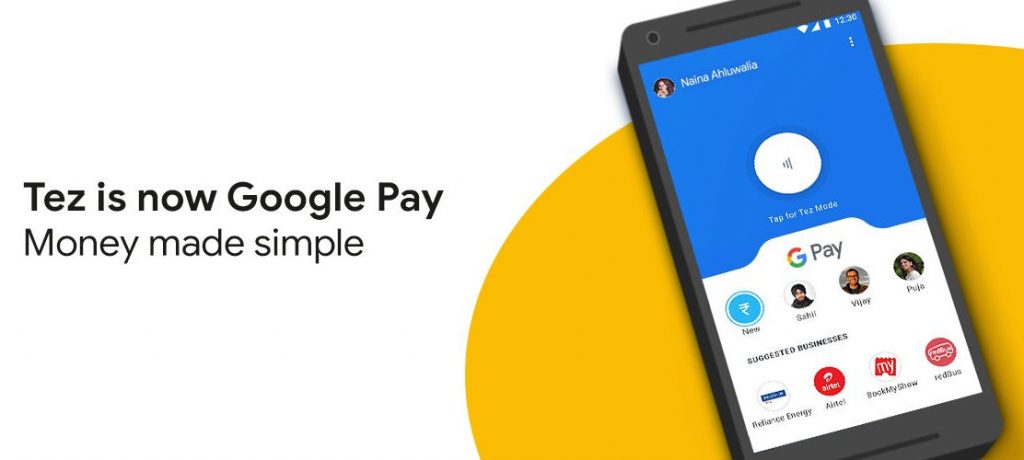 Earlier this year Google announced that it will be combining Android Pay and Google Wallet, into a single brand – Google Pay, making it an unified payment solution, and it started rolling out from February. At that time the experiences will be coming to Tez users in India soon. Today at the Google for India event the company said that Tez will be rebranded as Google Pay.
It's certainly been a year to remember. #GooglePay #GoogleForIndia pic.twitter.com/GDhfnSqiFR

— Google Pay India (@GooglePayIndia) August 28, 2018
Since the launch of Tez last September, there are now 22 million monthly active users, and over 750 million transactions were made that are collectively worth over 2 lakh crore or $30 billion annually. Google said that Google Pay works in places like Goibibo, FreshMenu, redBus and in over two thousand other online apps and sites. And in the coming weeks, it will be adding more partners, including deeper integrations with BookMyshow.
Google is also working with over 15,000 retail stores across India, and later this year, Google Pay will be available at retail stores, like Big Bazaar, e-Zone, and FBB.
Merchant mode will simplify digital payments for the 12 lakh local businesses already on our platform, and for those coming on-board. #GooglePay #GoogleForIndia pic.twitter.com/uv7lxEhwv8

— Google Pay India (@GooglePayIndia) August 28, 2018
Google is also launching Merchant mode to help businesses local  grow their business. In addition to receiving digital payments using their phones, this will help them be discovered through Google Search and Maps, and communicate with their customers through messages and offers. It is currently being tested in Bangalore and Delhi.
Google is partnering with HDFC Bank, ICICI Bank, Federal Bank, and Kotak Mahindra Bank to facilitate pre-approved loans to the customers, right within Google Pay. In the coming weeks, these customers will be able to use Google Pay to take out a customised loan amount from their banks, with minimal paperwork, and once they accept the bank's terms, the money is deposited securely and instantly by their bank, into their bank account.