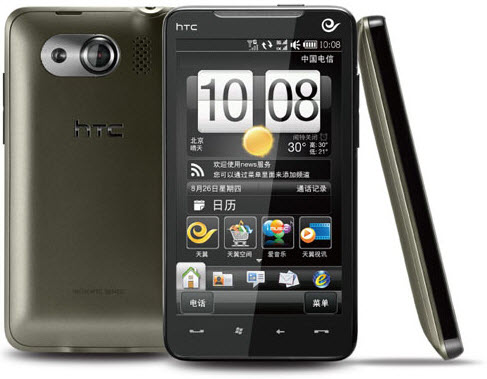 HTC and China Telecom recently announced the new HTC T9199 smartphone. The first smartphone designed by HTC and China Telecom for Chinese consumers. HTC T9199 is powered by the old Windows Mobile 6.5 Operating System.
"In June this year, China Telecom began developing an extensive smartphone market strategy in response to our customers' needs. The new HTC T9199 is an important part of the series of smartphones developed by China Telecom, and not only embodies HTC's leadership in smartphone technology and design innovation, but also marries China Telecom's leading mobile network services, offering consumers an excellent user experience," said Zhang Xiao Wei, Executive Vice President, China Telecom.
HTC T9199 is a high end business phone, targeted at the business consumer with dual-network support for CDMA and GSM. It features a 4.3 inch touchscreen display with 480 x 800 pixels resolution, Windows Mobile 6.5 OS, Qualcomm 8650 Snapdragon 1GHz processor, HTC Sense, 5 megapixel camera, 3G connectivity, 576 MB RAM, 512 MB ROM, 3.5mm audio jack, micro-USB, Bluetooth 2.1 with EDR and 1500 mAh battery.
HTC T9199 will be exclusively available on the airwaves of China Telecom. The price and availability of this handset is still unknown.