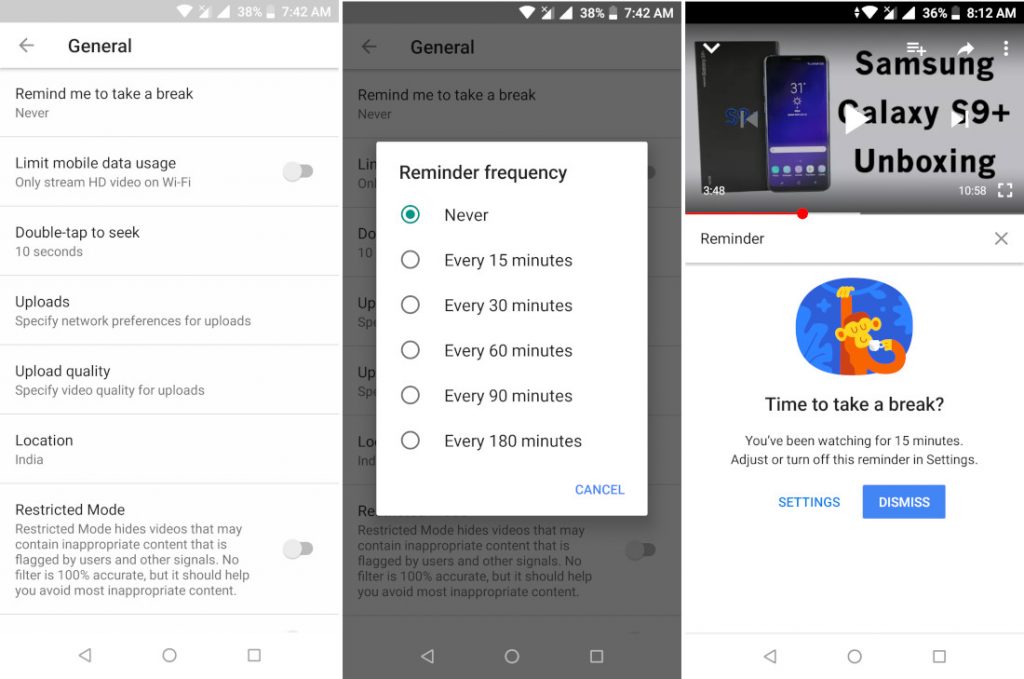 At the Google I/O event, the company announced its digital well-being initiative to help people better understand their digital habits. One inclusion to this initiative is 'Take a break' self-set timer within YouTube to refrain users from spending too much time watching videos. Today, the feature is rolling out to YouTube for Android. 
Take a break' on YouTube for Android started appearing once it is updated to version 13.18.54. With the new feature "Remind me to take a break" option you can set yourself reminders to have YouTube remind you to stop watching for every 15, 30, 60, 90, or 180 minutes. These options are found in the setting by tapping on your profile icon and then going to Settings > General > Remind me to take a break.
Once the timer is reached, YouTube will pause the video, and show you a friendly monkey face asking if you want to take a break. You can either dismiss the reminder and continue watching videos or come out of the app. YouTube won't actually stop you from continuing to watch videos. This feature gives us an idea of a big picture that Google is planning with well-being initiative by including an entire break down of the time you spent in the app. You can download or update the YouTube directly from the Play Store.