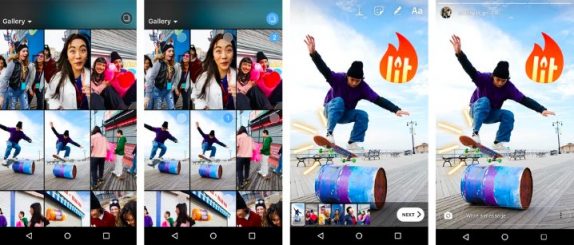 Instagram is bringing a much-needed feature to its stories. It will now let you upload multiple photos and videos to stories at once. You will now see a new icon in the upload media at the top right corner of the screen. Tap the button and start selecting photos or videos.
This new feature allows you to upload up to ten photos or videos from your gallery at once. On the edit screen page, you can preview of all the media you've selected lined up at the bottom. However, if you wish to change order or edit individual images, you can tap each one and edit with stickers, text and all the other tools in Instagram Stories. When you're done, all of the photos and videos in your preview will upload at once in the order you selected them.
Furthermore, Instagram is also making it easier to add location to the images or videos you wish to upload. The location sticker will now suggest places from near where the media was captured thus making it easier to tag places even if you don't remember them. The new update with the ability to upload multiple photos and videos to stories is available on Android from today and will be coming to iOS soon.