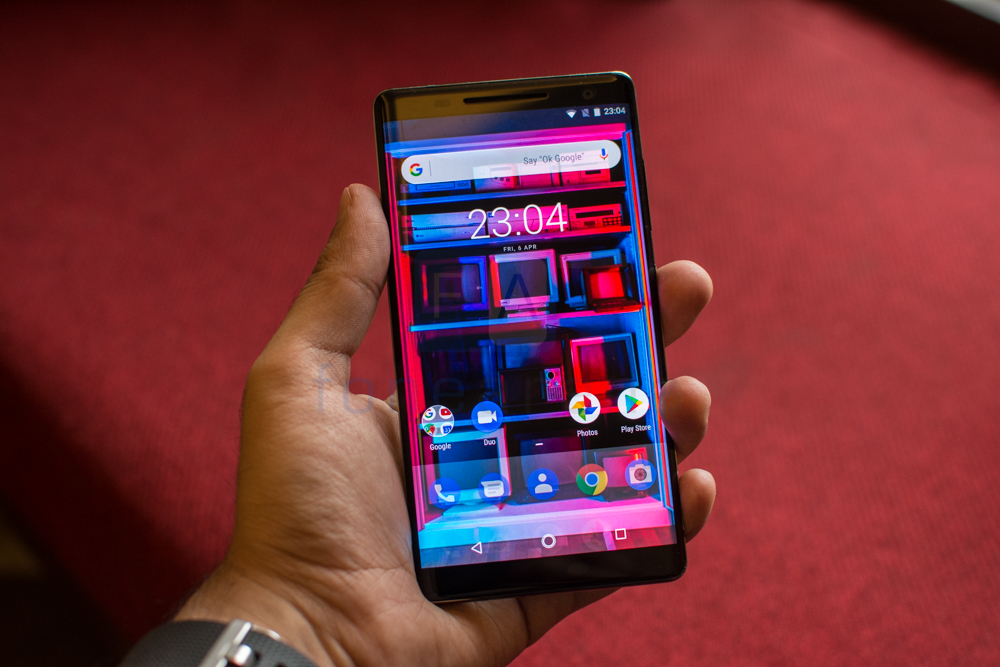 For all the anticipation around the relaunch, Nokia (HMD Global?) has been taking it slow and steady over the last year or so of their rebirth. There've been close to a dozen smartphone launches across categories and the company has been silently plugging away at bringing back some of their most iconic product lines. With photography and build quality being one of the key tenets, rumors were rife that the next big device will be a photography monster. Instead, what we've ended up with is a redo of the Nokia 8 in Sirocco edition garb.
Nokia 8 Sirocco specifications
5.5-inch (2560×1440 pixels) pOLED display, sculpted Corning Gorilla Glass 5 protection, 700 nits brightness
Octa-Core Snapdragon 835 Mobile Platform with Adreno 540 GPU
6GB DDR4X RAM, 128GB (UFS 2.1) storage
Android 8.1 (Oreo)
12 MP primary rear camera with 2L7 wide-angle lens, 1.4um pixel size, f/1.7 aperture + 13 MP secondary camera with 3M3 Telephoto lens, 1.0um pixel size, f/2.6 aperture, dual-tone flash, 2x optical zoom
5MP front-facing camera with 1.4um pixel size
Fingerprint sensor, Barometer
Water and Dust Resistant (IP67 )
USB Type-C audio, 3 microphones
Dimensions: 140.93 x 72.97 x 7.5 mm
4G VoLTE, Wi-Fi 802.11ac (MIMO), Bluetooth 5.0, GPS/ GLONASS, USB Type-C 3.1 Gen 1, NFC
3260mAh battery with fast charging,  Qi Wireless Charging
Design
The Nokia 8 Sirocco Edition is a marvel of engineering. Be it next to a vintage bottle of scotch or in your hand as you step out of a cutting-edge Tesla, the stunning piece of hardware is right at home. Indeed, Nokia has managed to build a phone that handily traverses all spectra and manages to stand out like Naomi Campbell at the Golden Globes.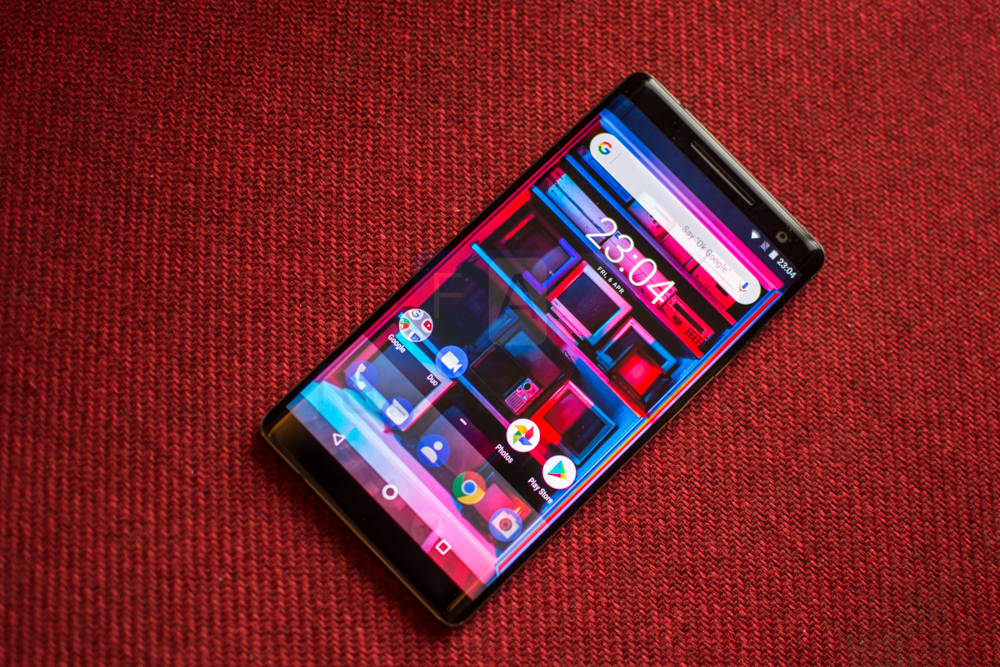 The front of the Nokia 8 Sirocco edition sports a 5.5 inch 2K pOLED screen. No, this is not an 18:9 panel but really, at this size, you don't particularly need one. Instead, Nokia has opted for a dual curved edge that adds a degree of immersion to the user experience. The Nokia 8 isn't entirely a bezel-free experience but even at the top and bottom, they are minimal enough to not be an eyesore. Nokia has used Gorilla Glass 5 on the hardware to make it fairly resistant to scratches and drops.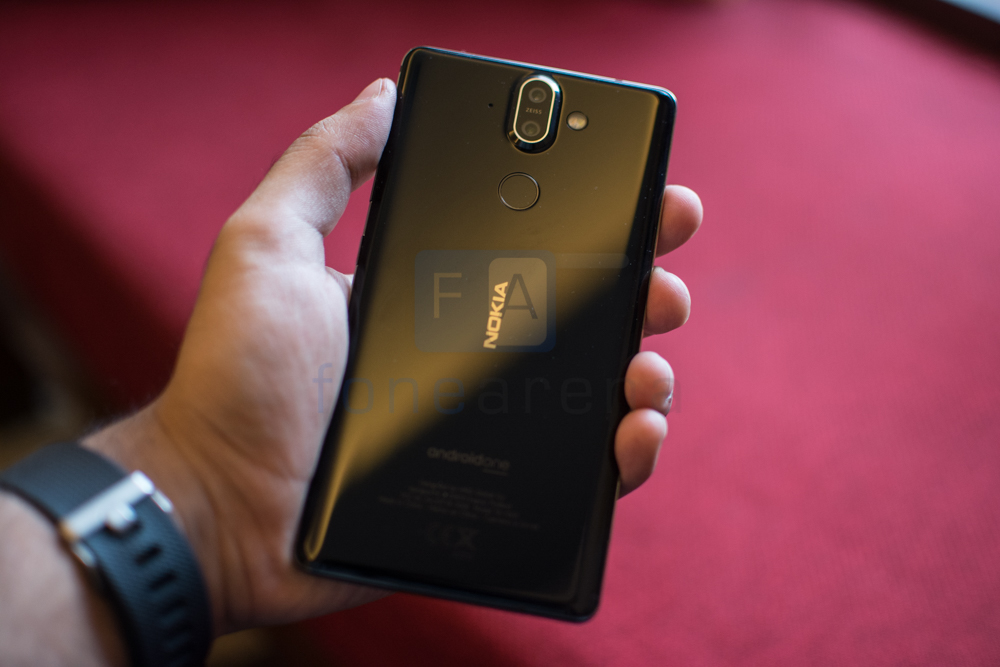 The back of the phone has a centrally placed fingerprint sensor that is mostly fast enough to use. Up above it is the dual camera module which includes a 12MP primary paired with a secondary 13MP camera that has a telephoto lens. More on the camera later. There's a Dual LED flash placed on the right side. Gentle Nokia branding can be seen towards the bottom half. The entire back is made of Gorilla Glass 5 which facilitates wireless charging. In all our testing, the phone has so far resisted scratches but the same can't be said for fingerprints.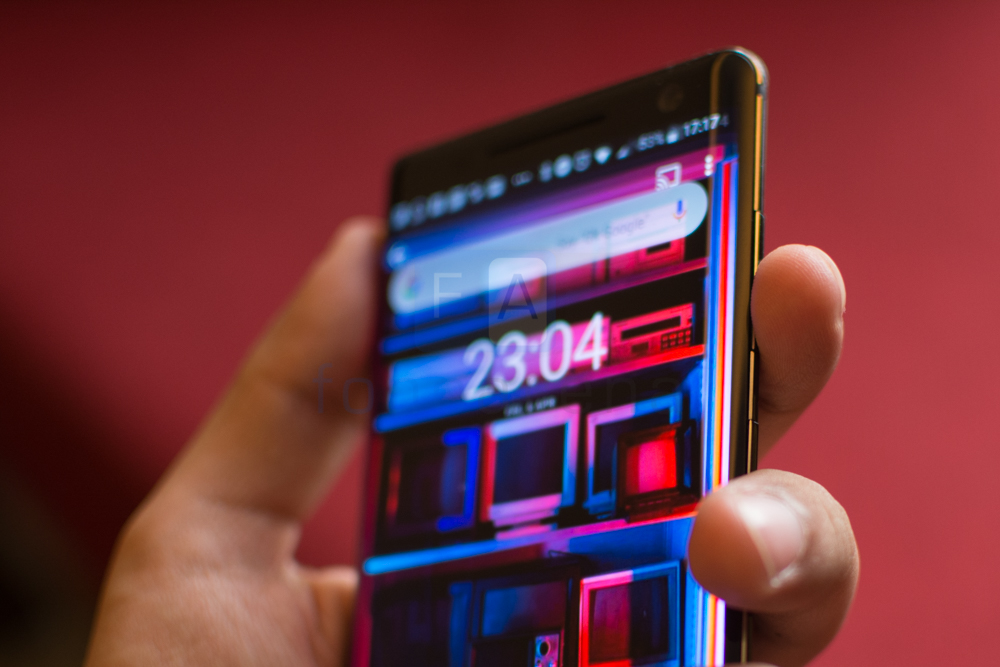 There's just one colorway for the Nokia 8 Sirocco and for good measure. The inky blackness of the front and rear glass shells beautifully taper and merge into the stainless steel middle chassis. Looked at from a side profile, the dual curved screen, and the rear panel are perfectly balanced. The form factor is absolutely gorgeous and the phone is a pleasure to use. In fact, ergonomics are almost perfect except for the side buttons that can be borderline infuriating to use. While indentations for the volume rocker are pretty evident, that is not the case for the power button that can be hard to locate and is generally a bit too low along the side of the device. Regardless, the amount of 'give' for either key is a bit too less and there's minimal feedback.
Over on the lower left-hand side is a single nano-SIM slot. Unfortunately, there is no microSD storage expansion slot for extra storage provided. Along the bottom edge is the USB Type C connector and yeah, there's no provision for a headphone jack.
Software 
Over the last year, Nokia has made a big deal of the fact that it supports stock Android and provides lightning fast system and security updates. This has been true for the entire line up. Now that phones like the Nokia 8 Sirocco are part of the Android One initiative, you can expect near Google Pixel level Android updates.
There's really no Nokia specific additions here so the interface is absolutely basic as it gets. The lock screen displays your standard notifications with a swipe up for the camera and microphones at the right and left corners. Swiping up reveals the home screen where you can place icons and widgets as you chose.
Pressing the app drawer button reveals the full list of applications while swiping down from the top reveals the notifications drawer. There isn't much else to the stock interface experience. The phone offers some basic gestures to mute phone calls and more. Nokia Glance screen is also baked in. Nokia has certainly lived up to its promise and at first boot, we got a software update that brought the handset to Android 8.1 with the April security patch.
Performance
Running last year's Snapdragon 835 chipset, the same as the one on the Google Pixels, the Nokia 8 Sirocco simply flies. Throughout the testing period, we struggled to find even a single instance where the phone wasn't powerful enough for what we wanted to do. This is paired with 6GB of RAM which makes multitasking a breeze. Be it high-end games or heavy multitasking, the phone never slows down. On the other hand, the phone does heat up marginally. The top half of the phone was noticeably warm after fifteen minutes of gaming or watching some web video content. Not really an issue but definitely something worth bringing up. Technically, the phone is running a last gen chipset while commanding flagship prices. We can see this argument coming up quite a bit but in day to day use, we'd wager that most users would never notice the difference given how powerful the Snapdragon 835 platform is. We've included some benchmarks below for your perusal.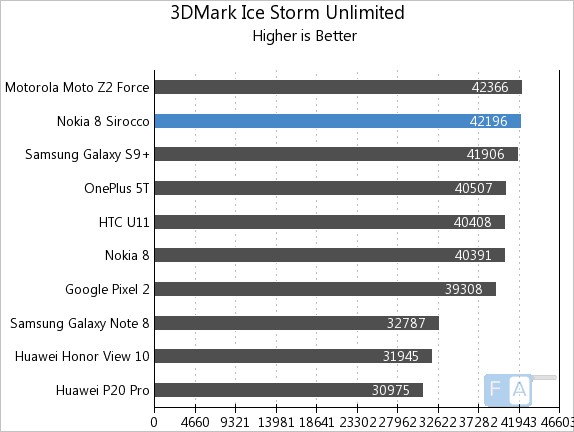 In the 3DMark Ice Storm Unlimited benchmark, the phone scores 42196 points that is amongst the highest we've seen.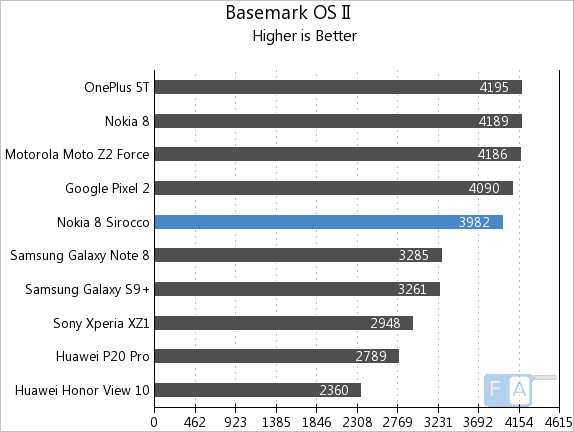 In Basemark OS II, the Nokia 8 Sirocco manages 3982 points.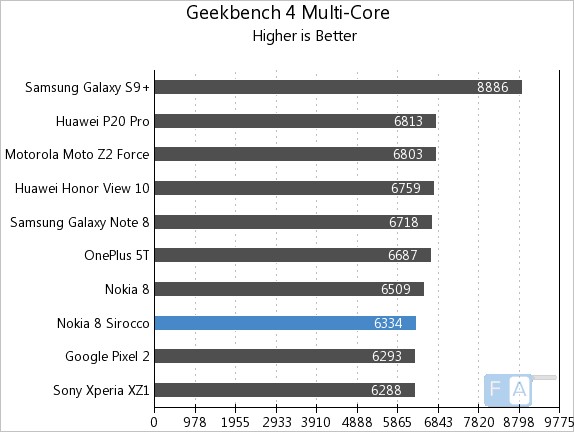 In the Geekbench 4 Multi Core benchmark, the phone is on par with the other Snapdragon 835 toting competition but lags behind higher-end phones like the Galaxy S9.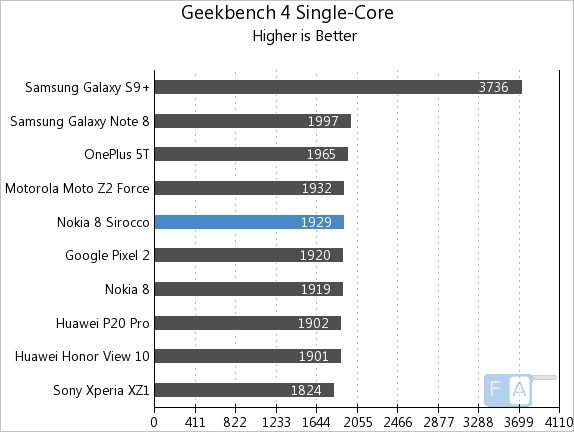 Similarly, in the Geekbench 4 Single Core benchmark, the phone manages 1929 points which is in line with Snapdragon 835 phones but not well behind the 845. Keep in mind though that synthetic benchmarks hardly tell the full story.
Camera
Last year's Nokia 8 was a mixed bag when it came to camera performance. A decent performer all around but not exceptional in any way. This time around Nokia has ditched the RGB + Mono array and has replaced it with a wide + telephoto arrangement. The results are much improved though the company is still a while away from delivering a flagship-grade photography experience.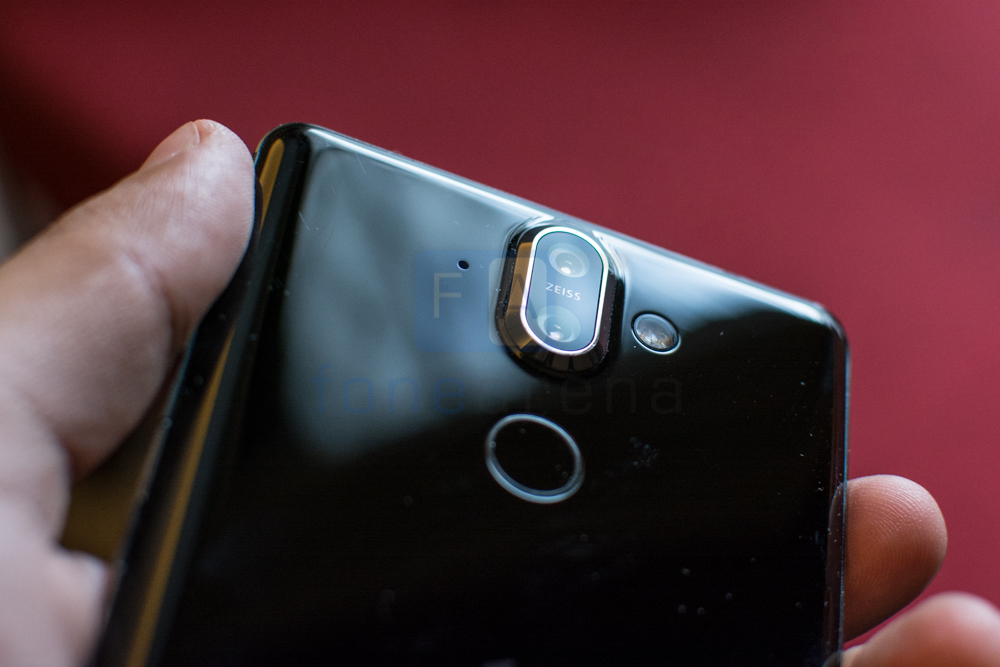 With the Nokia 8 Sirocco, the camera capabilities have received a substantial upgrade. The hardware is just a part of the story of course. First up is the Pro Camera mode from Lumia devices. A very intuitive way to get granular control over your shots, there's a lot of possibilities with the manual controls. Do note that this does not work in the telephoto mode.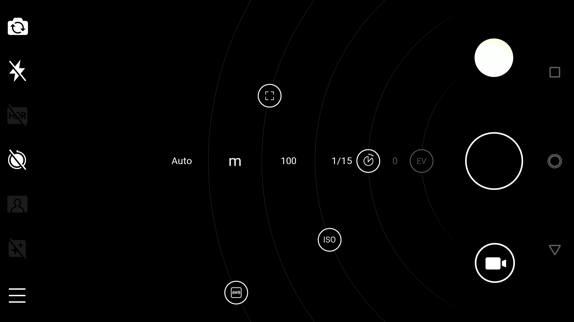 Anyways, most people do not use manual controls with phones and images using the Pro Mode really would just be the best case scenarios. Other than a few shots that we've marked out as such most of our samples were shot using the standard auto mode with HDR set to auto as well.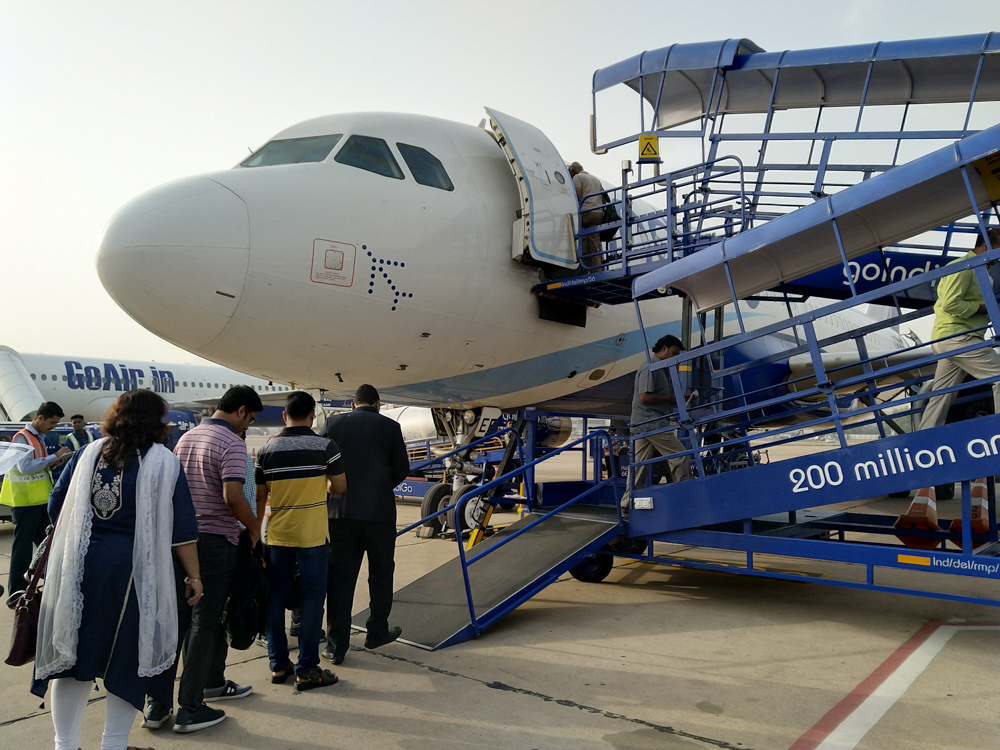 In this early morning shot at the airport, the metering was done accurately but you'll notice that dynamic range is slightly constrained. The auto HDR detection didn't kick in and so the dark regions are a bit short on details.
While generally shots are pretty good, the telephoto lens implementation could do with some software optimization. There's a bit of softness to the images when zoomed in and in some cases a shift in white balance too.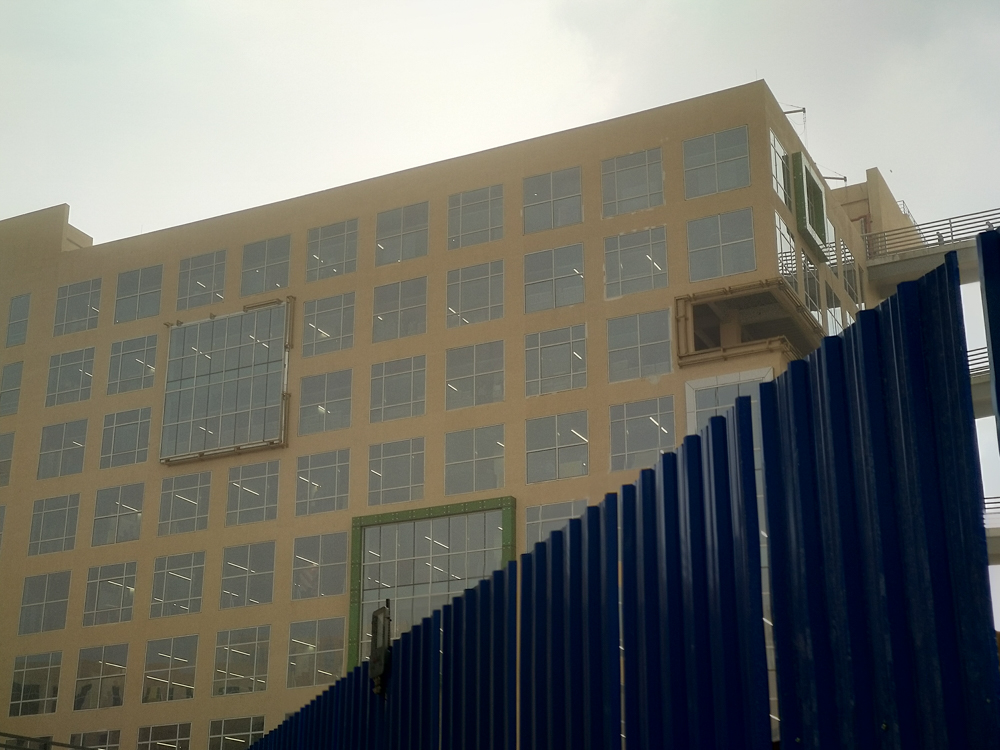 In dimming light, the noise reduction algorithms aren't as effective as we would want and there's a hint of grain in the images.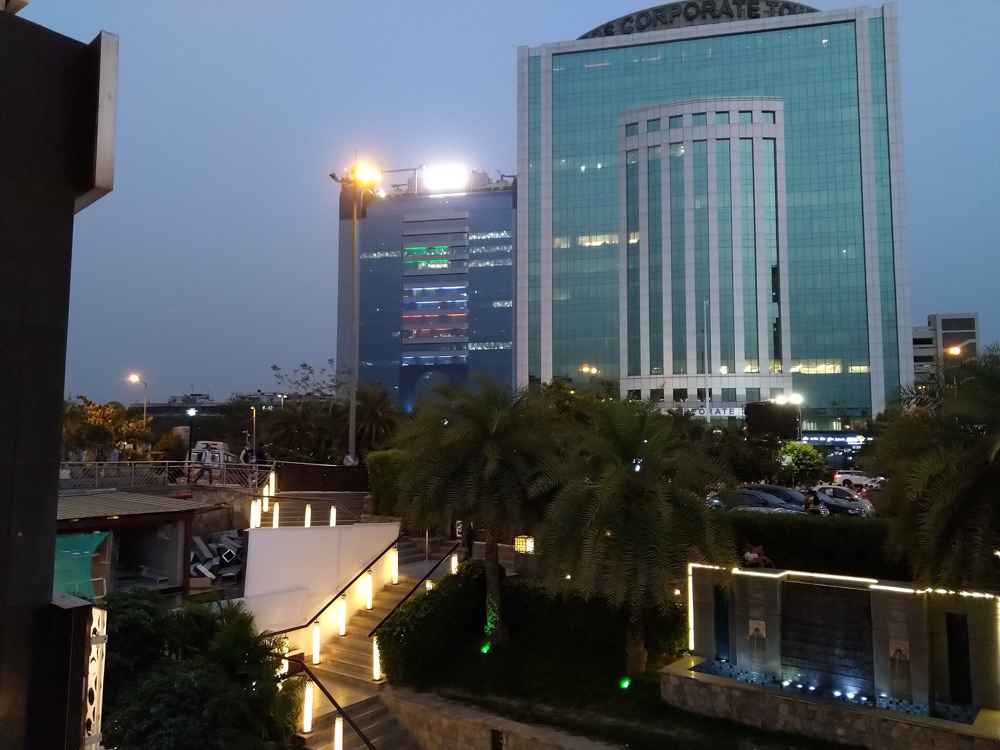 In low light shots, the phone does decently but it is certainly no Pixel. Dark regions are short on details while the highlights are blown out in the lights. Once again, auto HDR did not kick in here. Another issue we faced is that there's a bit of latency when capturing HDR images. Unless you can hold your phone still for a second or so, you will likely get a blurred out shot as the phone shoots multiple exposures. There is no hardware constraint for this to happen so we hope that Nokia fixes this sooner rather than later.
Display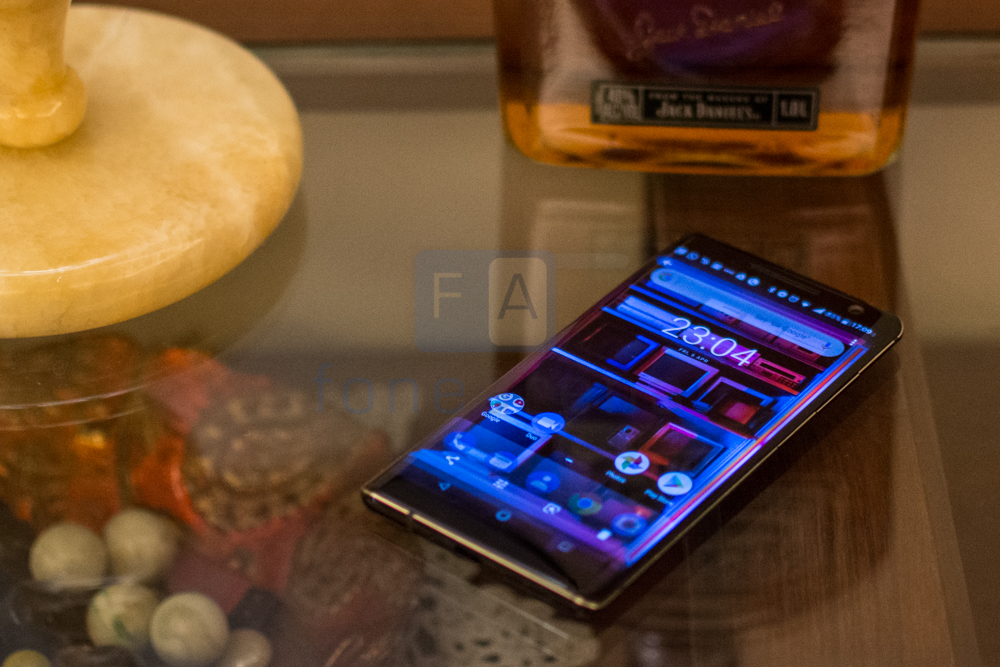 Being an OLED display, the screen is very vibrant and displays deep blacks. A side effect is the slightly oversaturated color palette. Viewing angles are generally great but there is a slight blue shift. This is common to most OLED panels so its hard to pin the blame on Nokia. Brightness levels and outdoor visibility are very good. Also, along the curved edge, there is a bit of light refraction that gives it a blue tint at an extreme angle.
Connectivity & Battery Life
Connectivity options on the phone include 4G VoLTE, Wi-Fi 802.11ac (MIMO), Bluetooth 5.0, GPS/ GLONASS, USB Type-C 3.1 Gen 1 and NFC. The USB Type C port doubles up as the audio out port too via the USB to 3.5mm dongle included in the box. Nokia has bundled in USB C earphones. 13.42 GB of the built-in 128GB is used out of the box and there is no facility to expand storage.
The battery is rated at 3260mAh and we found that it gets you through a full day of use. We averaged about 5 hours of screen on time including a lot of wireless music streaming, multiple social accounts configured, a few photos and phone calls. It's not amazing but it does get you through a day. The phone supports fast charging as well as wireless charging over the Qi standard.
Conclusion
A phone is a sum of all its parts and it is the attention to detail that makes things stand out. In the Nokia 8 Sirocco, it is the craftsmanship, the near perfect build quality and ergonomics that make it a really good smartphone.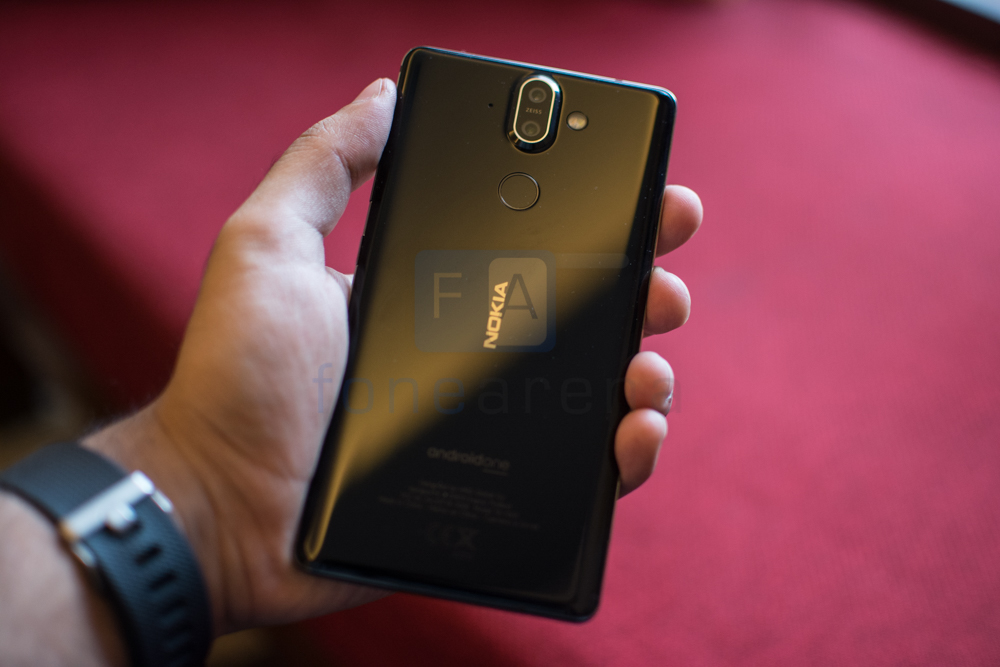 Pit against other phones in the price range, it might not tick all the boxes when it comes to specifications but the sheer joy of using it can't be beaten. We've enjoyed using the Nokia 8 Sirocco a whole lot more than many other smartphones over the last few months. The stock Android experience, luxurious build quality and compact form factor play a big role in that. With its minor imperfections and need for another layer of polish though, the Rs 49,999 price point makes it a tough sell unless design is your primary deciding factor.
The phone is now available for pre-order on  Flipkart, Nokia mobile shop and offline stores like Sangeetha, Poorvika, Big C, Croma and Reliance, and goes on sale starting from April 30th.