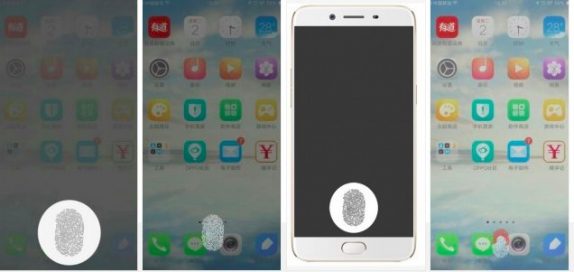 Vivo recently introduced the first smartphone in the world with an in-display fingerprint sensor followed by Huawei Mate RS Porche Design. Now OPPO appears to be the third one in the list as the company's new patent which was received from State Intellectual Property Office of China (SIPO) reveals a fingerprint scanner under the display.
The documents are backed by multiple images that reveal the scanner might be used not only for unlocking the device but also for authorizing payments. The images briefly show how the sensor works and what parts of the actual finger will be recognized. Since the is seen working even when the screen is on, it is different to what Synaptics developed which is a sensor that is emitting light underneath an OLED panel and then reading the fingerprint.
OPPO has filed for the patent back in May 2017 with the State Intellectual Property Office (SIPO) in China. The patent was approved on March 30, 2018, and shows various images of Oppo smartphones with a built-in fingerprint sensor under the display. With OPPO widely rumored to re-introduce a premium flagship phone in 2018 there's a chance that this sensor will make its way on it.
With OPPO scrapping off the Find 9, it leaves us with the successor to the already introduced R15; the R15s which is expected to be announced in October 2018.