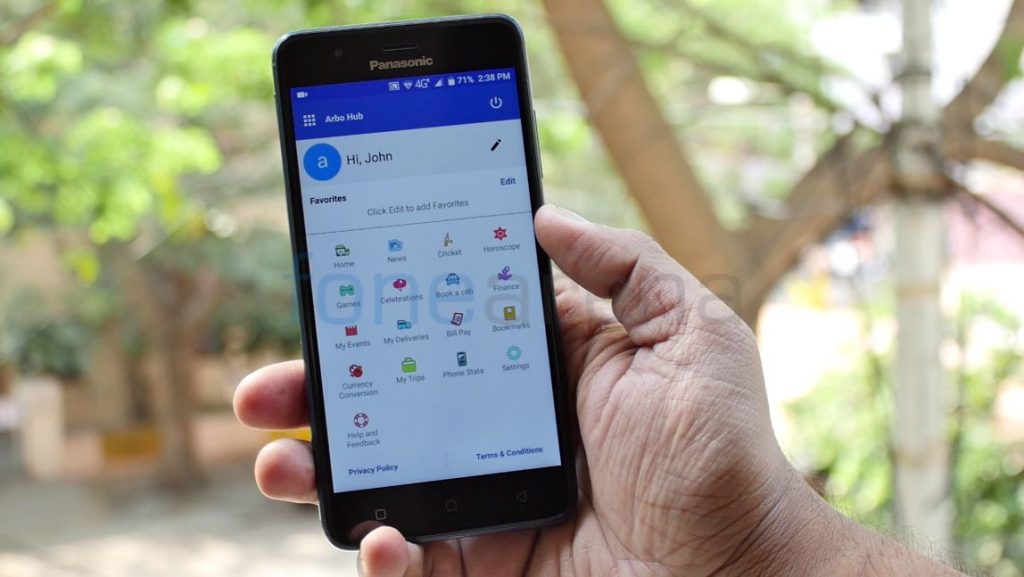 Panasonic today launched 'Arbo Hub' which is an AI powered Hub which provides Panasonic users access to multiple apps and services on a single platform. Arbo Hub observes and adapts to the users specific needs, interests and provides the services under one single platform. The company has partnered with Ola, AccuWeather, NewsPoint, MobiKwik and Gamezop. 
Arbo Panasonics AI based assistant was launched in March 2017. Arbo Hub learns user preferences and makes recommendations based on areas of interest this makes the user experience smarter and clutter free. User will be shown information, data, content, games and shows which are relevant to them. It partnered with various apps like Accuweather, NewsPoint. Futhermore, Arbo Hub app's lets you compare fares between app service like Ola and Uber.
Panasonic mentioned that Arbo Hub will be rolled out to the users of Eluga ray 700 through an over the air update. The upcoming Panasonic P85 NXT and Eluga Ray 710 will also come with Arbo Hub.
Commenting on the launch, Pankaj Rana, Business Head – Mobility Division, Panasonic India, said: 
We have struck all the right chords with Arbo, our Artificial Intelligence-based virtual assistant launched a year ago. With Arbo Hub, the Arbo family will now expand from an AI-powered virtual assistant to an AI-powered application Hub. The users now do not have to download multiple apps and clutter their phones, Arbo Hub will make available all the services you need on one single platform. We will keep evolving our AI-based initiatives and in the next iteration of the platform our users will come across exciting developments like live TV, music, food ordering, deals and offers plus price comparison across e-commerce platforms.go