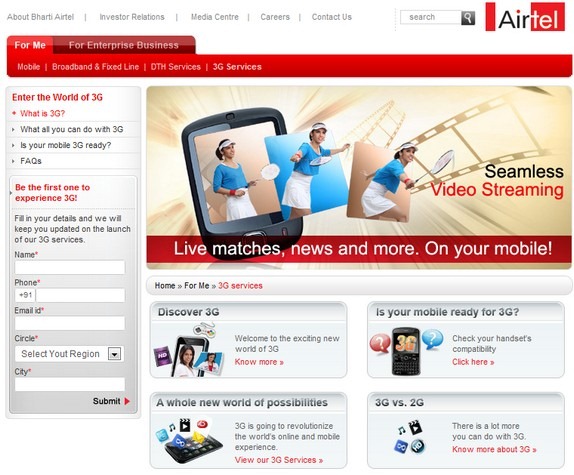 We all know that operators in India are gearing up to launch 3G Services in India. The License Fee has been paid by the auction winners and government has allotted the 3G spectrum to the operators.Now Airtel's website is displaying details about 3G services . No pricing or launch date info is available but it seems like material used to educate users about the benefits of 3G. Airtel has won the bid for 13 circles in India – Delhi , Mumbai , AP, Karnataka , Tamilnadu, UP West, Rajasthan, W.B, Himachal Pradesh,Bihar , Assam , North East and Jammu & Kashmir. There is also indication that Airtel might be offering HSPA speeds which translates to around 21 Mbps download speeds !
UPDATE: Airtel 3G Tariffs
There is also a form which lets you stay up to date about the launch of the 3G services. Regarding the charges and launch date here is what Airtel says
We will inform all our customers about the activation process of 3G, it's availability in your area, charges etc. as soon as we launch our 3G services. You will also be able to access all this information on airtel.in/airtel3g
You can also check if your current handset is compatible with 3G networks. Airtel is saying that you wont need a new SIM card to activate 3G services and you can get 3G on your existing number
Are you ready for 3G ? Looks like we will have 3G finally this Diwali !
Source : Airtel
Thanks Aravindhan for the tip