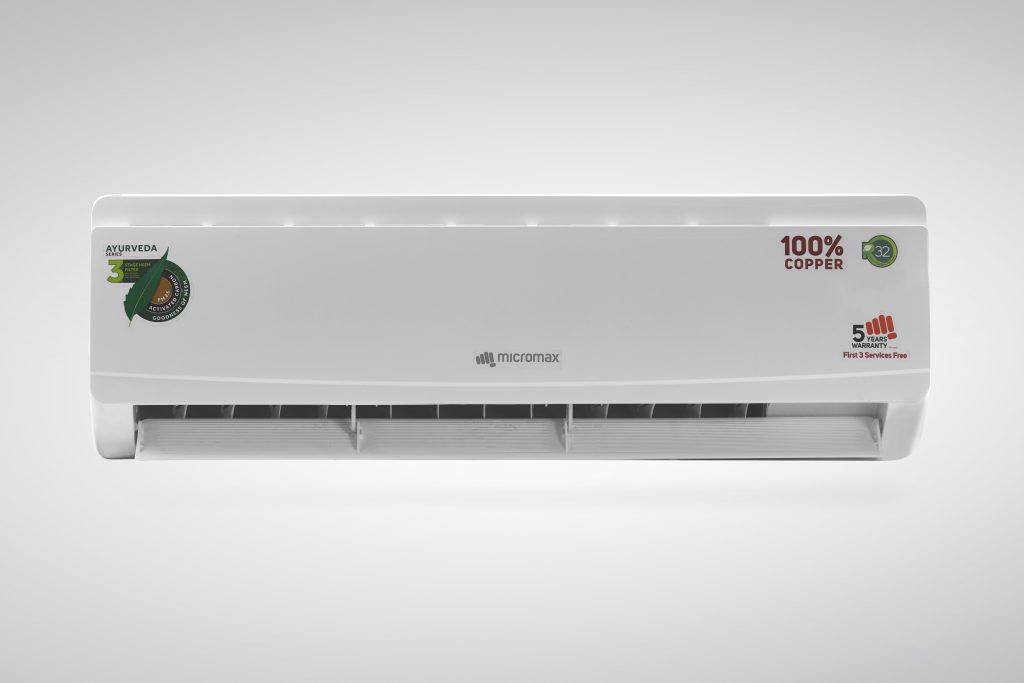 Micromax today launched its Ayurveda Series Air Conditioners in India starting at Rs. 29,990. The new series is specially designed for the diverse Indian weather conditions and curb the bad air quality. They are powered by the R32 eco-friendly refrigerant and has much lower ozone-depleting & global warming potential than some other refrigerants used in the market.  They are also made of 100% copper.
It is also India's first AC with a PM 2.5 filter powered by the goodness of 'Neem' which is also perfect for the Indian climate with its cooling solution, according to the company. Micromax claims that the new line-up is said to provide anti-bacterial & anti-allergen properties through the neem filter.
The company in the next 12 months aims to capture 5% market share of the Indian AC market and establish itself as a serious player in the category.
The Micromax Ayurveda Series Air Conditioners range between Rs. 22,990 to Rs. 39,990 depending on the variant.  The company says that it has also set up dedicated service centres and customer service applications for the new product segment for better customer reach.
Commenting on the launch, Rajesh Agarwal, Co-founder, Micromax Informatics said:
Indian consumer's needs have been the topmost priority at Micromax and we have always believed in developing products based on consumer insights. With our innovative products, we are working towards becoming a leading consumer electronics brand and today's launch is a testimony to the same. Currently, bad air quality and inflated electricity are a great concern for consumers. Keeping this in mind, we have worked towards bringing an India-specific solution to the deteriorating air quality with this new range.
[Update: Micromax now says that the starting price of the AC will be Rs. 22,990, and not Rs. 29,990 as mentioned earlier. The article has been updated accordingly]