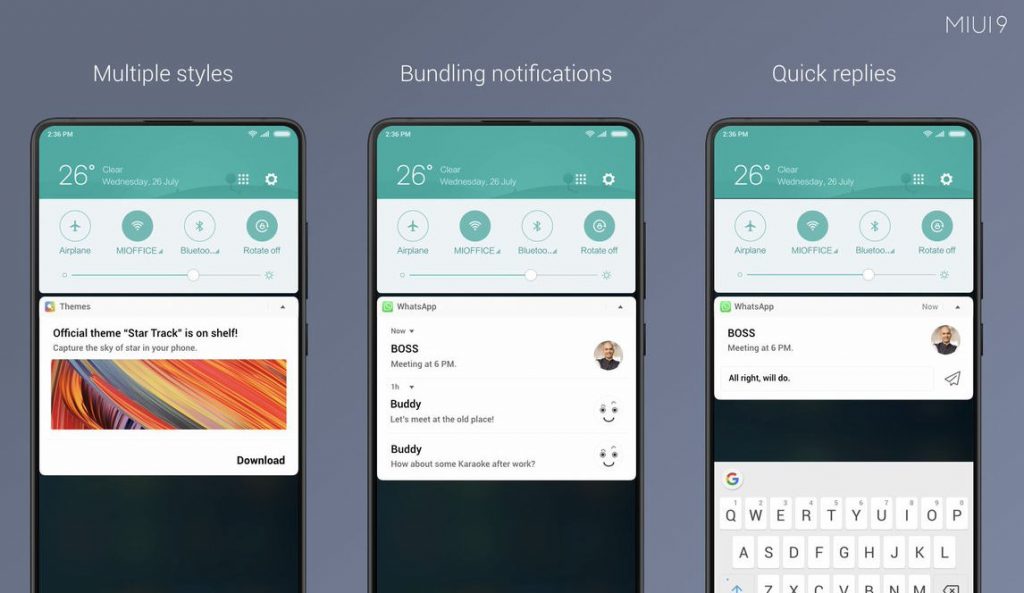 People either love MIUI or hate it, there is nothing in between, people who love MIUI usually complaint about the MIUI notification panel because it did not support basic stock Android features like Quick reply and had painful two finger swipe down gesture to expand notifications. At MIUI 9 launch, Xiaomi announced the New Notification Panel to address these issues, and now with MIUI 9 Global Beta 7.11.23 update users can enjoy Quick reply and Bundled notification features on their Xiaomi devices.
Bundled Notifications:
New notification panel presents notification and information in a clean and concise way, it groups all the notifications on app basis which makes notification panel look concise and saves space as well. Whenever an app sends multiple notifications MIUI groups them together to save space for more notifications, notifications can be expanded by a simple swipe down or by tapping the triangular icon next to it.
Quick Reply:
Users can reply to messages/conversation in a faster and convenient way now by simply tapping the Reply button next to the notification, thanks to the Quick reply feature. Information such as text, profile photos and images can be seen directly on notification panel without opening the app and users can reply to conversations without leaving the current app they are using.
After spending some time with the new Notification panel, it looks like more optimization is required and it's not as perfect as stock android notification panel however it is definitely better than the notification panel MIUI earlier had. Sometimes expanding notification doesn't work in one attempt and we also observed multiple icons in status bar in case of multiple notifications for few apps. The quick reply feature works flawlessly for WhatsApp and Messenger. Hopefully these glitches will be fixed with the future Global Beta updates.
This feature is rolling out to MIUI Global Beta ROM users and it will be rolled out to MIUI Global Stable ROM users with future updates. If you are on MIUI Global Stable ROM, you can switch to MIUI Global Beta ROM using this guide. Check the updater app on your phone if you are already running MIUI Global Beta ROM on your device. Did you like the new Notification panel? Let us know in comments below.