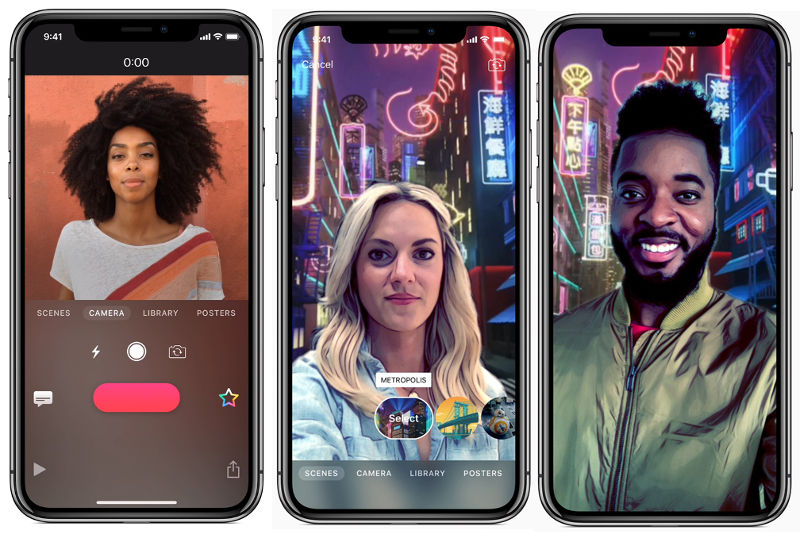 Apple is rolling out an update to its Clips movie-making app with new 360-degree Selfie Scene that uses iPhone Xs TrueDepth camera and has also added iCloud support as well. This is the first major update since the addition of Disney and Pixar stickers back in July.
The Selfie scene is a new feature that places the user into animated 360-degree scenes when recording selfies. This new feature takes advantage of the iPhone X TrueDepth camera sensor on the front and places the user in a wide range of locations including bustling cities, serene landscapes, abstract paintings and even the Millennium Falcon and Mega-Destroyer from "Star Wars: The Last Jedi."
Each scene is a 360-degree experience that surrounds the user on all sides as they move iPhone X and it also adds environmental sound effects making the scene much more immersive. Another inclusion is the New Effects and Stickers. It uses advanced machine learning and style transfer technology to turn any photo or video in real-time into a moody oil painting, vibrant watercolor or elegant pencil sketch.
Apple has added more Disney stickers including full-screen posters featuring Mickey Mouse, Minnie Mouse, and Star Wars cast animated stickers. Apple also lets you including 16 new Apple-designed stickers and 21 new royalty-free soundtracks from indie artists and these tracks are auto-adjusted to match the length of the video. To make the user experience even better, Apple has re-designed the user interface which puts frequently used controls in the front.
A new Effects browser lets users view and chooses filters, labels, stickers, and emoji. Apple has finally added iCloud support, and the edited clips are now automatically uploaded to iCloud across iPhone and iPads. Now you can start editing a video on an iPhone and can finish it later on an iPad.
Clips 2.0 is available for free on the AppStore and is compatible with iPhone 5s, iPad Air and iPad mini 2 and later models, running iOS 11.1 and later. While the Selfie Scene feature is exclusive to iPhone X.