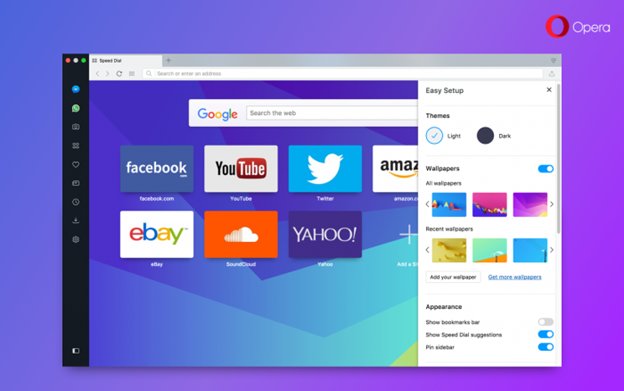 Opera has updated its browser for desktop with new snapshot tool, VR player and several improvements and features. Opera says that new update aims at making web browsing even more interactive and convenient. It includes a handy search pop-up tool, integrated popular social messengers and support for watching online video content using VR headsets.
The Snapshot feature on the Opera Browser gets new editing tools and a selfie mode to help personalize the screenshots taken from the web. It now lets you click selfies and add it to the screenshot instantly and can launch this feature directly from the sidebar via the camera iconor by hitting Ctrl + Shift + 5 (⌘ + ⇧ + 5 on macOS). You can edit the screenshots with pencil, arrow, blur, zoom, and emojis.
Back in May Opera included popular social messengers as a sidebar in the browser and with this new release, the list now includes Facebook Messenger, WhatsApp, Telegram, and VK. With this new integration, users can now make use of these services without having to install any software or extensions.
Opera in this new stable release has also bundled a built-in VR 360 video player; the one feature which was introduced in Opera 49 developer version. Users who own HTC Vive, Oculus Rift, and other OpenVR-compatible devices can now view the VR library. With the new customized start page the way they want with themes, designer wallpapers, bookmark and sidebar options and so on.
Other improvements include a search pop-up tool can currently convert 32 units of measurements, 14 time zones and now 37 currencies. The browser has been sharpened to look its best on HiDPI screens and the private window now closely resembles the regular light theme mode of Opera with an appropriately matched dark address bar.
Opera says that the browser for Desktop has the strongest double-digit growth in 2017 and the number of monthly active users has increased over 25% YoY with a record growth of 65% over the same time last year in the US.