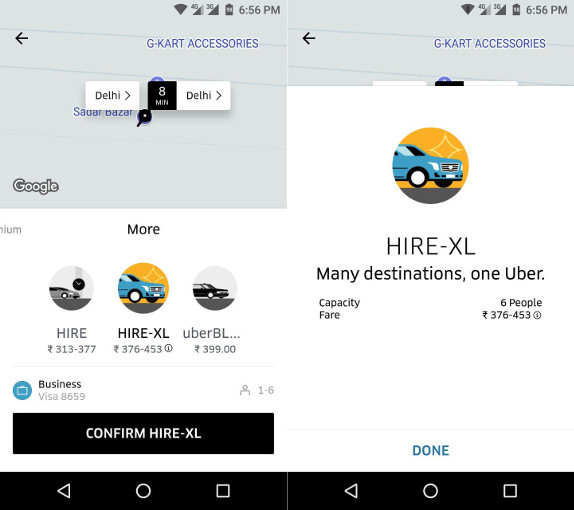 Uber launched its UberHire car rental service in 9 cities in India earlier this year. Today it has launched uberHIRE XL in Delhi that will enable upto 6 riders to travel instead of 4 riders in UberHIRE. With this service, riders can hire a 6-seater SUVs such as Toyota Innova, Honda Mobilio and Maruti Suzuki Ertiga with more room. Minimum fare for uberHIRE XL is Rs. 359, Per km fare above 10 km is Rs. 17/km and per minute fare above 60 minutes is Rs. 2.5/minute.
Dynamic pricing is not applicable for UberHIRE XL and you will have to pay additional taxes, tolls and parking charges.
Commenting on the launch, Prabhjeet Singh, General Manager, North India, Uber said:
After the successful launch of uberHIRE in multiple cities, we are delighted to announce Delhi as our launch city for uberHIRE XL. With the influx of tourists in the capital, Uber aims at providing reliable rides at all hours of the day so tourists can cover key attractions across NCR, thereby supporting and extending the capital's public transportation system. With the wedding season on the anvil, UberHIRE XL can also solve for both shopping and travel to and from wedding venues led requirements for large families. We are enthused by the tremendous potential that UberHIRE XL holds for Delhites.