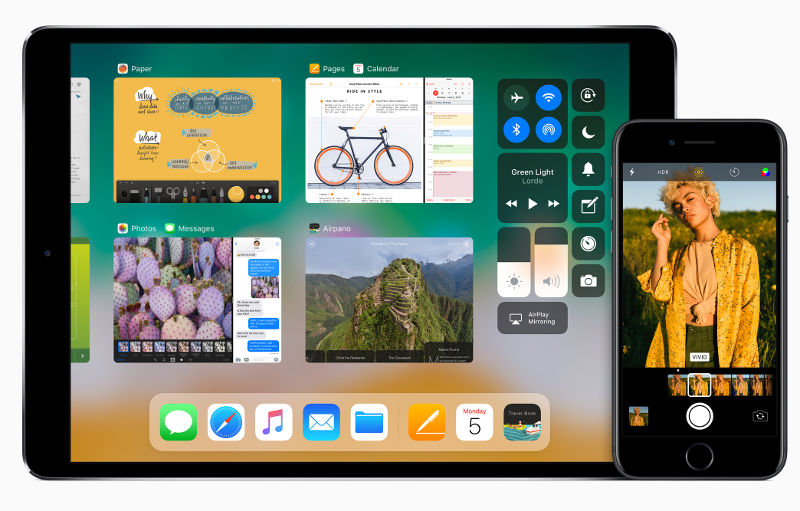 Apple has released iOS 11, its latest operating system for iPhone, iPad and iPod Touch users as it had promised and also released watchOS 4.0 for Apple Watch users. Announced at the WWDC in June this year, iOS 11 is compatible with iPhone 5s and later, all iPad Air and iPad Pro models, iPad 5th generation, iPad mini 2 and later and iPod touch 6th generation. Apple already said that iOS 11 is optimized for 64-bit apps, so 32-bit apps will not work and need to be updated by the app developer to work with this version of iOS.

The iOS 11 update brings new Files app, Enhanced Siri, Voice Translation, Unified Control Center and more. It is the biggest software release ever for iPad, with powerful multitasking features and more ways to use Apple Pencil.
The watchOS 4 comes with an array of features like Siri-powered watch face and updates to Workouts, Activity and Music. It also features an enhanced Workout app and introduces GymKit platform that will offer customers connected workouts with cardio equipment. Check out the complete changelog for both below. It has also released tvOS 11 for Apple TV that brings several new features.
New features in iOS 11


App Store
• All-new App Store designed for discovering great apps and games everyday
• New Today tab helps you discover new apps and games with stories, how-to guides, and more
• New Games tab to find new games and see what's most popular with top game charts
• Dedicated Apps tab with top picks, dedicated app charts, and app categories
• App pages include more video previews, Editors' Choice badges, easier access to user ratings, and information about in-app purchases


Siri
• New Siri voice is more natural and expressive
• Translate English words and phrases into Chinese, French, German, Italian or Spanish (beta)
• Siri suggestions based on your usage of Safari, News, Mail, and Messages
• Works with notes apps to create to-do lists, notes and reminders
• Works with banking apps for account transfer and balances
• Works with apps that display QR codes
• Hindi dictation


Camera
• Portrait mode now supports optical image stabilization, HDR and True Tone flash
• Photos and videos will take up half the space with the new HEIF and HEVC image and video formats
• Redesigned set of nine filters optimized for natural skin tones
• Automatically identify and scan QR codes


Photos
• Loop, Bounce, and Long Exposure Live Photo effects
• Mute, trim, or choose a new key photo for Live Photos
• Memory Movies automatically adapt content for portrait and landscape orientation
• More than a dozen new memory types including pets, babies, weddings, and sporting events
• People album is more accurate and stays up to date across devices with iCloud Photo Library
• Animated GIF support


Maps
• Indoor maps for major airports and shopping centers
• Lane guidance and speed limit information with turn-by-turn directions
• One-handed zoom with double tap and swipe
• Interact with Flyover by moving your device


Do Not Disturb while Driving
• Automatically silences notifications while driving and keeps iPhone silent and display off
• Optional iMessage auto reply to alert selected contacts that you're driving


New features designed for iPad
• An all new Dock provides quick access to your favorite and recently used apps and can even be shown on top of active apps
• Dock resizes so you can add all of your favorite apps
• Recently used and Continuity apps are available on the right
• Enhanced Slide Over and Split View
• Apps can be easily started in Slide Over and Split View from the Dock
• Slide Over and background apps now run simultaneously
• Apps in Slide Over and Split View can now be placed on the left side of the screen
• Drag and drop
• Move text, images, and files between apps on iPad
• Multi-Touch to move multiple items at the same time
• Spring-loading to move content between apps
• Markup
• Markup works across documents, PDFs, webpages, photos and more
• Instant markup anything in iOS – just place Apple Pencil on what you want to mark
• Create a PDF and markup anything that can be printed
• Notes
• Instantly create a new note by tapping on Lock Screen with Apple Pencil
• Inline drawing available by simply placing Apple Pencil in body of a note
• Search handwritten text
• Document scanner autocorrects for skewing and uses image filters to remove shadows
• Table support to organize and display information
• Pin important notes to the top of the list
• Files
• All-new Files app to browse, search and organize files
• Works with iCloud Drive and 3rd party cloud file providers
• Recents view for quick access to recently used files across all apps and cloud services
• Create folders and sort files by name, date, size and tags


QuickType
• Flick down on letter keys to enter numbers, symbols and punctuation marks on iPad
• One-handed keyboard support on iPhone
• New keyboards for Armenian, Azerbaijani, Belarusian, Georgian, Irish, Kannada, Malayalam, Maori, Odia, Swahili, and Welsh
• English input on the 10-key Pinyin keyboard
• English input on the Japanese Romaji keyboard

HomeKit
• New accessory types including AirPlay 2 speakers, sprinklers and faucets
• Expanded occupancy, time and accessory based triggers
• QR code and tap to pair accessory setup support

Augmented Reality
• Augmented reality technologies that apps from the App Store can use to deliver content on top of real-world scenes for interactive gaming, immersive shopping experiences, industrial design and more

Machine Learning
• Core machine learning technologies that apps from the App Store can use to deliver intelligent features with machine learning data processed on device for high performance and user privacy

Other features and improvements
• Control Center redesign brings all controls on one page
• Control Center custom controls including accessibility, guided access, magnifier, text size, screen recording and Wallet
• Apple Music now helps you discover music with friends. Create a profile so friends can listen to playlists you've shared and see the music you listen to most
• Apple News now includes Top Stories picked just for you, recommendations from Siri, the best videos of the day in Today View, and great stories selected by our editors in the new Spotlight tab
• Automatic Setup signs you in to iCloud, Keychain, iTunes, App Store, iMessage, and FaceTime with your Apple ID
• Automatic Setup restores device settings including language, region, network, keyboard preferences, places you frequently visit, how you talk to Siri, home and health data
• Easily share access to your Wi-Fi networks
• Storage optimization notifications and free up space in Settings for apps like Photos, Messages, and more
• Emergency SOS calls emergency services based on your current location and automatically notifies emergency contacts, shares your location, and displays your Medical ID
• FaceTime lets you capture Live Photos from the other person's Mac or iPhone camera
• Easily check Flight status in Spotlight and Safari
• Definitions, conversions and math support in Safari

Accessibility
• VoiceOver descriptions support for images
• VoiceOver tables and lists support in PDFs
• Type to Siri support for basic search queries
• Spoken and braille caption support for videos
• Dynamic Type increases text and app UI to larger sizes
• Redesigned Invert Colors make media content easier to view
• Highlight Colors improvements in Speak Selection and Speak Screen
• Switch Control typing can scan and type whole words at a time
New features in WatchOS 4

Watch Faces

New Siri face that intelligently updates information based on time of day, location, and daily routines
New animated Toy Story faces featuring Woody, Buzz Lightyear, Jessie and more
New Kaleidoscope face that turns static images into symmetrical, intertwining patterns
New complications for Siri, News, Heart Rate, Now Playing, and Messages

 Activity

Intelligent and personalized notifications to help you close your Activity rings each day
Monthly challenges based on the previous month's activity levels
New full screen animations to celebrate important milestones including earning an achievement and closing your rings
Replies to activity sharing notifications now include workout metrics

Workout

Redesigned app for quick starts and helpful workout type graphics
New High Intensity Interval Training (HIIT) workout with custom motion and heart rate algorithms for more accurate calorie tracking
Support for multiple workout types in one workout session
Auto sets for Pool Swim workouts with distance for each stroke type and pace for each set, automatically adjusted for rest time
Ability to automatically start a synced music playlist when you start a workout on Apple Watch Series 1 and later
Access to music controls directly in the Workout app during a workout session
Option for Do Not Disturb to be automatically turned on during workouts

Heart Rate

New visual graph showing all-day heart rate
New heart rate measurements and visual graphs for resting rate (Apple Watch Series 1 and later), walking average, workout average and high, recovery time, and sessions in the Breathe app
Option to be notified if your heart rate rises above a specified threshold while you appeared to be inactive for a 10-minute period
Current and historical details of heart rate data in the Health app on iPhone, including new Heart Rate Variability (HRV) and VO2 Max data types

Music

Redesigned app for easy scrolling through album art
Ability to sync multiple playlists for local playback with bluetooth headphones
Automatically sync curated playlists from Apple Music including Heavy Rotation, My New Music Mix, and My Favorites Mix

Other features and improvements 

News app with summaries of Top Stories and save for later to read on iPhone
Flashlight and Safety Light in Control Center
Vertical scrolling through recently used apps in the Dock
App home screen available in an alphabetical list view
Mail compose and swipe gestures
Dialer pad in the Phone app
Conflicts displayed in Calendar invites
Scribble support for German
Sub-minute and repeating timers
Suggested and recent locations in Maps
Contacts and locations in smart replies