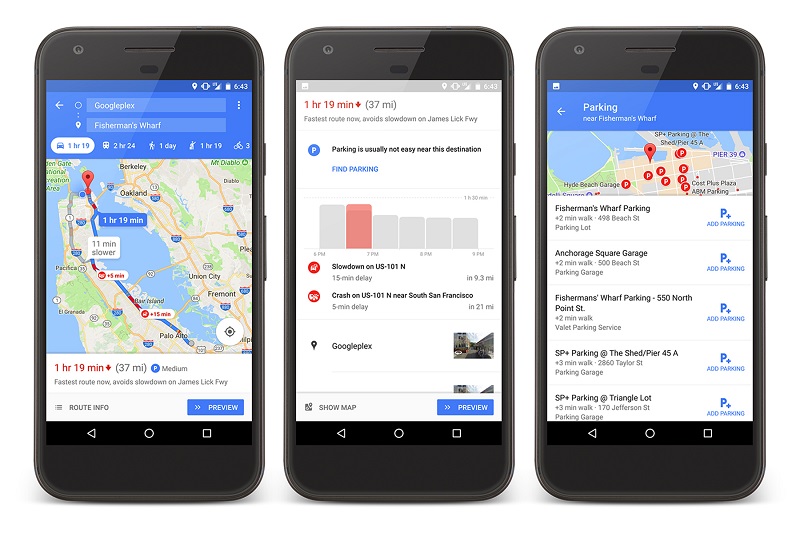 Google has update Maps with a new feature that makes it easier for users to find parking. You can now find parking near your destination on Google Maps for Android. 
Available in 25 cities in the US, people can tap "find parking" on the directions card to see a list of parking garages and lots near their destination. Once they tap their selected option, it is automatically added to their trip. The app will also offer walking directions from their parking spot to their final destination.  Earlier in April, Google Maps launched a parking reminder feature that allowed users to record their parking locations.
In addition to the find parking tool, Google has expanded the roll out of the "parking difficulty" icon to more cities outside the US. To find out how hard it could be to park, simply get directions to your destination and look for the parking difficulty icon in the directions card at the bottom of the screen. Based on historical parking data and machine learning, parking difficulty levels can vary from limited to medium to easy. At the beginning of this year, Google started showing parking availability for users in the US.
Parking difficulty icons are now available in the following cities: Alicante, Amsterdam, Copenhagen, Barcelona, Cologne, Darmstadt, Dusseldorf, London, Madrid, Malaga, Manchester, Milan, Montreal, Moscow, Munich, Paris, Prague, Rio de Janeiro, Rome, Sao Paulo, Stockholm, Stuttgart, Toronto, Valencia, Vancouver
People can now find parking in the following US cities: Atlanta, Boston, Charlotte, Chicago, Cleveland, Dallas/Fort Worth, DC, Denver, Detroit, Houston, Los Angeles, Miami, Minneapolis/St. Paul, New York City, Orlando, Philadelphia, Phoenix, Pittsburgh, Portland, San Diego, Sacramento, San Francisco, Seattle, St. Louis, Tampa.