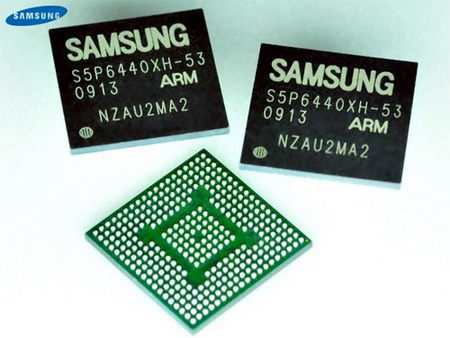 Samsung Galaxy S series is running on a blazing fast 1GHz Hummingbird A8 processor, which is currently one of the fastest processor available, but Samsung has a way big plans. Samsung has announced the next generation of mobile processors for tablets PCs, netbooks and smartphones, the ARM Cortex A9 Orion processor, a dual-core 1 Ghz processor which is capable to record a video on 1080p, and video playback at 30 frames per second.
Orion is strong enough to handle two displays, and in a same time it can be connected to a TV or any other external display via HDMI output. The Cortex A9 will have five times the graphics performance as compared to the current Hummingbird A8 processor.
Samsung will start the shipping of the Orion to select customers in Q4 of 2010, and will go into the mass production in the first half of 2011. Qualcomm and Texas Instruments are also working on dual-core processor, so it means that we'll see some blazing fast phones in 2011, I cant wait for it, what about you folks?
via BGR