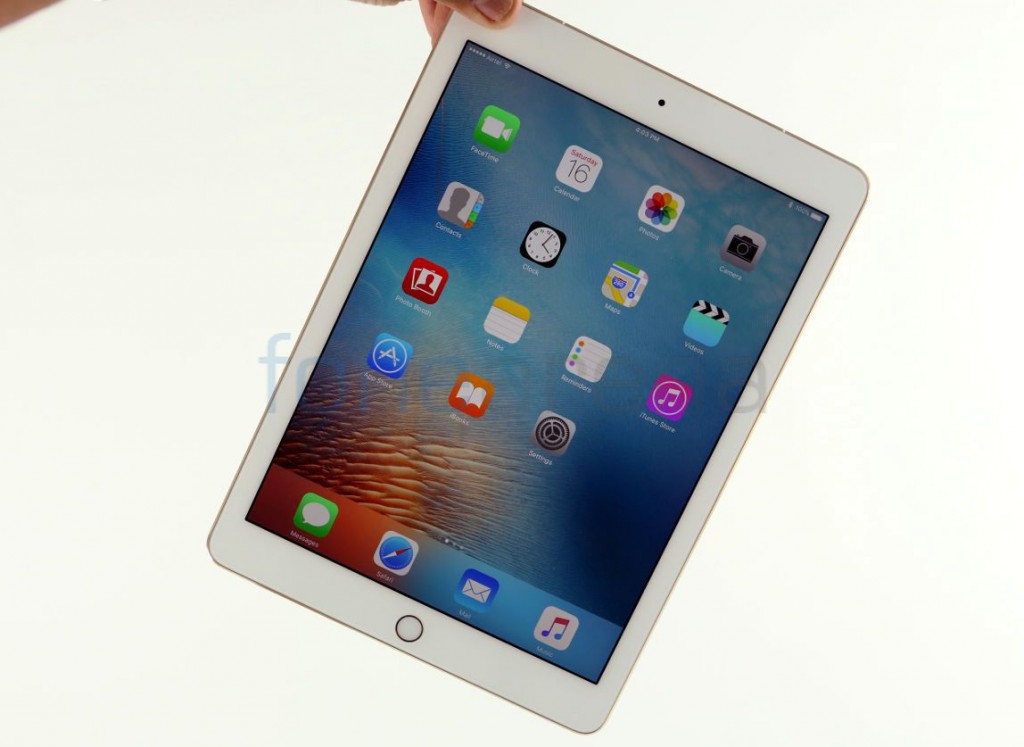 The worldwide tablet market once again contracted in the first quarter of 2017 (1Q17) with total shipments of 36.2 million, a year-over-year decline of 8.5%, according to preliminary data from the International Data Corporation (IDC) Worldwide Quarterly Tablet Tracker. The first quarter contraction marks the tenth straight quarter that tablets have experienced a decline over the same quarter a year earlier, with the previous five quarters recording double-digit drops.

The tablet market is comprised of two different product categories- devices offering a first-party keyboard (detachables) and slate tablets (those lacking this keyboard option). IDC states that detachables continue to grow for the most part while slate tablets which saw shipments peak in 2014 and is now in a steep decline.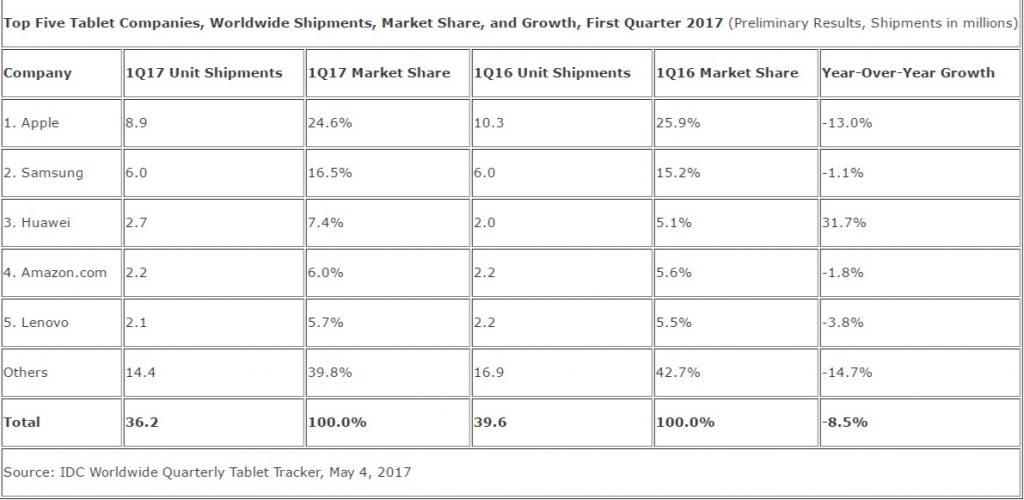 Apple continued to top the tablet market in Q1 by shippin 8.9 million units and grabbing a market share of 24.6%. However, the company experienced its 13th consecutive quarter of year-over-year shipment decline despite being the market leader in 1Q17. Samsung remained the number 2 tablet provider despite seeing shipments decline 1.1% year over year in 1Q17. The South Korean company shipped 6 million units and had a market share of 16.5% in Q1 2017.
Huawei, Amazon and Lenovo had a market share of 7.4%, 6% and 5.7% respectively. Huawei was the only company among the top 5 to experience positive growth in 1Q17 with shipments of 2.7 million, which was up 31.7% from the 2.0 million shipped in the first quarter a year ago.
Ryan Reith, program vice president with IDC's Worldwide Quarterly Mobile Device Trackers.
As far as most are aware, the tablet market was created in 2010 with the launch of the original iPad, despite unsuccessful product attempts by other OEMs in the years leading up to this. The rate at which the tablet market grew from 2010 to 2013 was unlike many other consumer-oriented device markets we've seen before. However, it appears for many reasons consumers became less eager to refresh these devices, or in some instances purchase them at all. We continue to believe the leading driver for this was the increased dependency on smartphones, along with rather minimal technology and form factor progression.
Linn Huang, research director, Devices & Displays at IDC said,
A long-term threat to the overall PC market lies in how the market ultimately settles on the detachable versus convertible debate. To date, detachable shipments have dwarfed those of convertibles, but growth of the former has slowed a bit. In IDC's 2017 U.S. Consumer PCD Survey, fielded over the previous two months, detachable owners held slightly more favorable attitudes towards their detachables than convertible owners did for their convertibles. However, owners of both were far more likely to recommend a convertible over a detachable.
IDC's outlook is that detachables will continue to far outpace convertibles in shipments, but the market pendulum seems to be swinging back in favor of convertibles if ever so slightly. Still, the detachable market has proven it will move with major product launches and Microsoft and Apple have yet to launch their 2017 salvos.