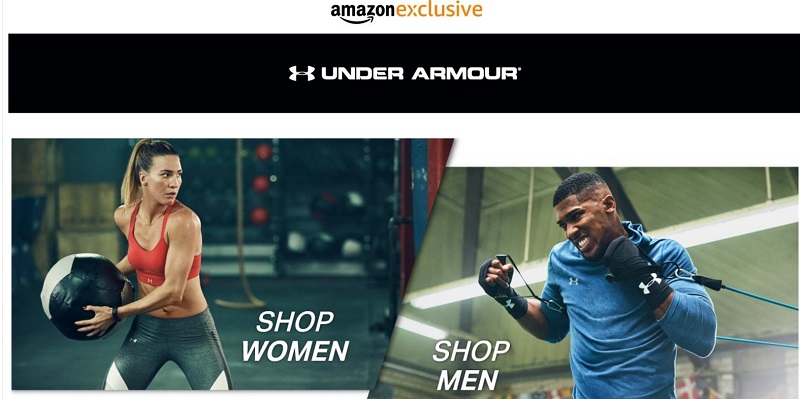 Under Armour, the global high performance brand has announced its entry in India today via Amazon Fashion. The company which is popular for its premium sports apparel, footwear, equipment and other accessories will be available exclusively on Amazon India.
The collection includes running and training gear. Under Armour is endorsed by the world's top athletes including Stephen Curry, Lindsey Vonn, Andy Murray, Jordan Spieth and Michael Phelps, amongst many others. The company specializes in men's, women's and youth apparel, footwear and equipment. Amazon India Fashion features a dedicated Under Armour brand store that comprises of a range of over 330 different styles including signature products such as Threadborne and Charged Cotton, UA SpeedForm, Charged Cushioning, and Micro G footwear.
Commenting on the launch, Arun Sirdeshmukh, Head, Amazon Fashion India said,
Sportswear is an incredibly strong category for us and has been growing at 70% year over year, owing to the changing lifestyle and rise in customer demand. The addition of this iconic performance brand, Under Armour, is a testament to our commitment towards providing a superior shopping experience to fitness enthusiasts across the country with easy access to a wide range of national and international brands. We believe this launch will further enhance our sportswear category and strongly support our recently launched dedicated Sportswear Store.
Andy Donkin, Under Armour, Global Chief Marketing Officer said,
We are extremely excited to partner with Amazon to bring Under Armour to athletes in India and help support their passion for sport. India is a diverse and dynamic market, massive in scale and growing faster every day. Being able to bring our brand to this country, one that values innovation through its own storied history, is a great milestone for Under Armour and solidifies our ongoing global expansion as we bring the most innovative gear and technology to athletes all over the world.