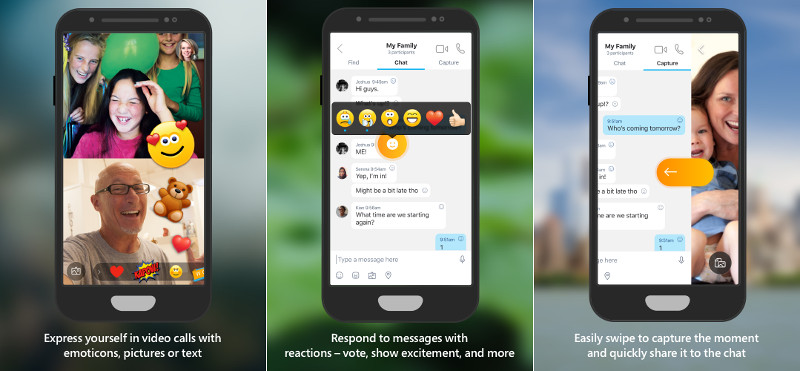 Microsoft has updated its Skype Preview for Android and iOS  with a lot of new features that are meant to make conversations more expressive and entertaining. It has new in-call reactions that let people add live emoticons, photos, and text to video calls. Integrated camera now supports emoticons, stickers, and annotations and lots more.
New features in  Skype Preview for Android and iOS

In-call reactions: you can now add live emoticons, live text and even real-time photos to your video calls. We all know a picture speaks a thousand words, and now you can amp up those video calls, especially when you're keeping pace with a busy group.
Integrated camera: quickly swipe to capture those precious moments. Make them your own by adding emoticons, stickers and annotations, then promptly share them in the chat.
Messaging reactions: respond to any message from your contacts with multiple reactions. Reactions can be used for any purpose: voting, showing excitement, or just for fun.
Find panel: easily find and share links, news, sports results, restaurants, the weather, videos and more without leaving the app. No more switching back and forth between apps; we're making it easy to bring the content you care about to the conversations that matter.
You can download Skype Preview for Android from Google Play and the Skype Preview for iOS is available in limited capacity through Apple's TestFlight.