Phew! If you follow Apple as closely as I do, you'd know that they've been keeping us pretty busy over the past couple of weeks. If it was the iPhone 4 launch one week, it was the 'Antennagate' press con the next, and this past week, a slew of products and news kept the Apple-sphere agog about the latest from Cupertino.
In their signature Tuesday-morning-release style, Apple launched a number of updates to their existing product families, including an all-new 27-Inch LED Cinema Display and MacPros with upto 12 core CPU options, among others. Apple desktop users were given some trackpad love with the release of the Magic Trackpad, which gives iMac and Mac Pro users the ability to use the full set of gestures (including two-finger scroll, pinch to zoom, rotate, three and four-finger swipes) that Apple's portable computer lines have enjoyed over the past couple of years. Oh, and they also launched a battery charger. Yep, an Apple battery charger, and guess what? It's suddenly a rage all over the internet… jeez, a battery charger! I mean sure, it's a nice little AA battery charger which minimizes 'vampire draw' by shutting off the power when the batteries are charged, and ships with six batteries which are claimed to last up to ten years. Only goes to show that just about any Apple news is big news!
Last week also saw the iPhone 4 hit 17 new countries on this past Friday, July 30th, and no, no dates for the rest of the world (including India) yet. There is good news though – if you're the sort who cannot wait for the speculated September India release, the iPhone has gotten a lot closer already, with Apple in Singapore and Hong Kong selling unlocked (carrier and commitment free) iPhone 4s at pretty reasonable rates, given how we've seen India pricing thus far. Incidentally, these two countries also happen to be the cheapest places to legally pick up an unlocked iPhone 4 model. Be aware that since the carriers are the only route for iPhone service in India, the warranties that these international unlocked models ship with may only be honored in countries that sell unlocked models. To be fair, given Airtel and Vodafone's poor track record in iPhone service, not having an India warranty isn't much of a loss, eh?
But possibly the biggest news to concern Apple's mobile devices was the reports that the U.S. government has defined new rules that will permit users to "jailbreak" their iPhone and skirt Apple's App Store ecosystem to add unapproved third-party applications, while staying safe from being charged, in the US at least, with a violation of the DMCA for jailbreaking their iOS devices. I suspect Apple Legal is still analyzing the impact of such a ruling, for Apple's response thus far has been rather cautious and guarded – that jailbreaking will void warranties and lead to a severely degraded experience. Now I for one have known many folks using jailbroken devices for a while now without the instability that Apple alludes to, but to be fair to Apple, the classic FUD is the best recourse while they formulate a more articulated response.
And no sooner had this news gotten out did we hear of the infamous iPhone Dev Team releasing an idiot-proof web-based jailbreak for the iPhone 4 called JailbreakMe. Designed to work right from your iPhone's browser, JailbreakMe reminds you that iPhone jailbreaking is now legal and also fully reversible by plugging in your device and hitting Restore in iTunes, before it proceeds to jailbreak your device. You need only visit the JailbreakMe.com site with your iOS device and activate the cheeky "Slide to Jailbreak" slide-switch to open up your device. And to demonstrate how easy it is, an anonymous prankster jailbroke all the display phones at one of Apple's stores! I'm sure the Geniuses at the Apple Store didn't find it half as funny as it sounds!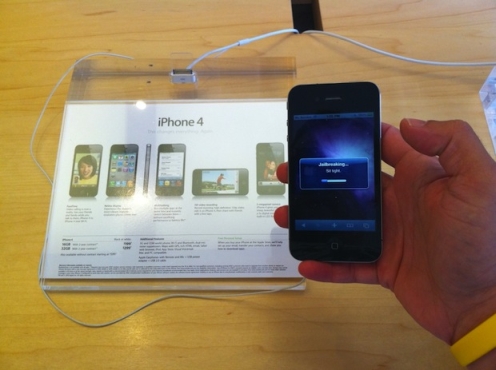 (image courtesy Cult of Mac)
Legalities and jokes aside, it does bring up a serious issue about security, which really shouldn't go down well with you if you are on an iOS device.  Unlike previous jailbreaks, this one happens without any user intervention because of a security hole in iOS that allows a website to write data to your iPhone.  This flaw allows the browser's PDF viewer to execute code, bypassing all security mechanisms. While we wait for Apple to release an emergency 4.0.2 iOS update, we'd suggest readers be rather careful of what sites they visit on their iPad/iPhones.