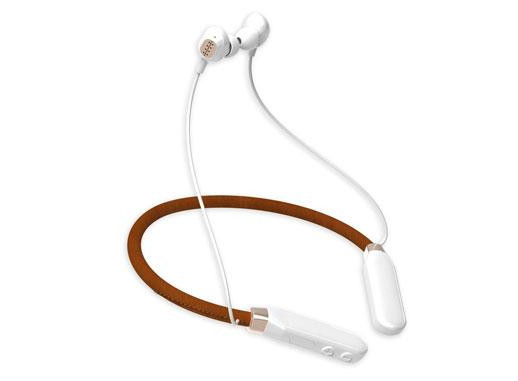 Qualcomm Technologies today has introduced active noise cancelling (ANC) technology for  its CSR8675 product platform, making it the world's first Bluetooth audio system-on-chip (SoC) to integrate the technology. "This reduces the complexity and cost of adding active noise cancelling to headphones by eliminating the need for a separate ANC chip, helping manufacturers quickly deliver premium audio experiences in much smaller form factor designs," said Qualcomm.
The CSR8675, a consumer audio platform designed for wired and wireless applications integrates an ultra low power 120Mhz 24-bit DSP and application processor with embedded flash memory, a high-performance stereo codec, a power management subsystem, LED and LCD drivers and capacitive touch sensor inputs. It also also supports Qualcomm aptX and Qualcomm aptX HD audio technologies for consistent, high-quality audio streaming over Bluetooth.
The headphones feature an extended playtime of approximately 12 hours and noise cancelling performance of up to -23dB.
Features of CSR8675
Bluetooth version 4.2 compliant
120 MHz programmable Kalimba DSP with integrated multipoint A2DP and HFP audio applications
aptX, aptX Low Latency, aptX HD, MP3, AAC and SBC audio codecs
2-mic Qualcomm cVc 8th Generation voice processing technology with wideband speech
Audio tuning suite with audio enhancements and two 5-band EQs
GAIA V2 and associated Android & iOS example apps for enhanced connectivity with mobile devices
Link Layer Topology support for enhanced multi-device co-existence
Qualcomm TrueWireless Stereo
Two I2S ports for enhanced audio connectivity capabilities with external components
Support for Apple MFi & Apple ANCS for enhanced communication with iOS devices
Qualcomm meloD stereo widening technology
Compatible with third party solutions available from our selected eXtension program members
CSR8675 BGA application boards backward compatible with CSR8670 BGA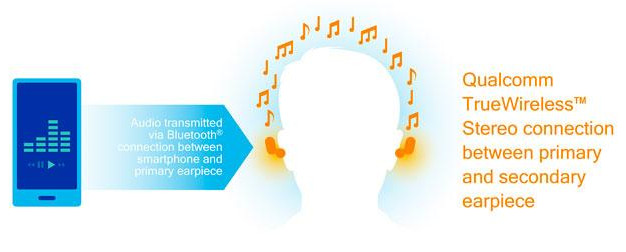 Qualcomm also introduced  TrueWireless Stereo Headset Reference Design. Qualcomm TrueWireless Stereo technology eliminates the need for wires entirely – not only between the media source and stereo headset, but also between left and right earbuds. Without a solution such as Qualcomm TrueWireless, wireless Bluetooth headsets and hearables would be connected to the audio source wirelessly, but would still need a wired 'connection between the left and right earbuds.
The Qualcomm TrueWireless Stereo Headset Reference Design is based on the CSRA63120 audio ROM device which supports stereo Bluetooth headsets to function completely wire free.
Highlights of Qualcomm TrueWireless Reference Design
Low cost
Optimized for low latency between left and right headphones
Very low power allowing long listening time per battery charge
Facilitates reduced development time
Robust, completely wire-free headphone connection with antenna technology
Includes Bluetooth 4.2 and 8th generation Qualcomm cVc noise cancellation technology
Qualcomm TrueWireless technology