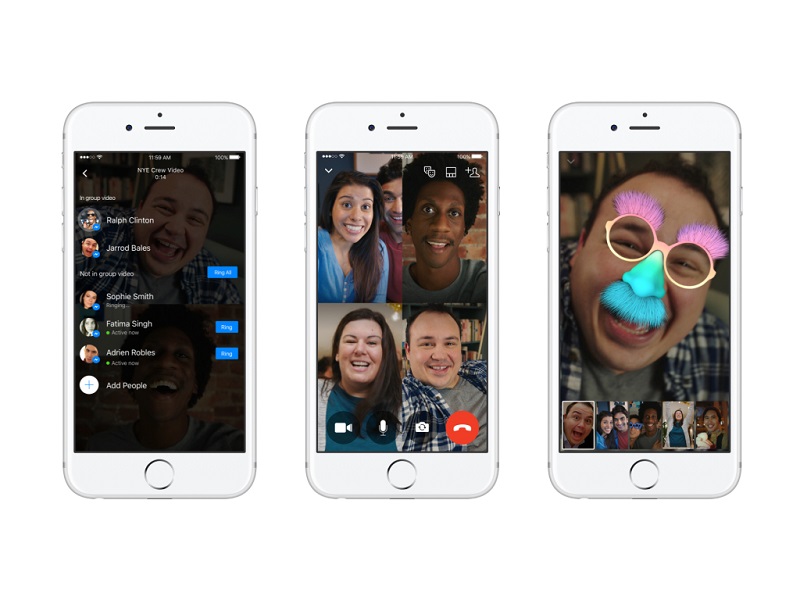 Facebook has officially launched group video calling for Messenger on Android, iOS and desktop. Up to 50 people can participate at a time in an ongoing video call while only up to six people can be seen at a time. However the 50 participants can listen and respond using text, stickers, emojis, and GIFs.
You can jump into an existing group conversation, or create a new one. Then tap on the video icon on the upper right of the screen to enter the video chat and everyone in the group will be notified. Everyone else in the group will be notified when you join the video chat. Along with group video chat, Messenger has also launched 3D masks, style transfers, art, frames, stickers, a canvas and more. Facebook had acquired video filter app MSQRD earlier this year and is using the tech for Messenger.
David Marcus wrote in a post,
Chatting face-to-face live as a group is perfect for those spontaneous moments when text just isn't enough… or when you have a major case of FOMO. It's the best way to share the news you just got a job (or into college), have your kids wish grandma a happy birthday, tell a funny story to the people you love or just see your friends live while wearing fun 3D masks (iOS only for now – Android coming soon) to an everyday conversation.