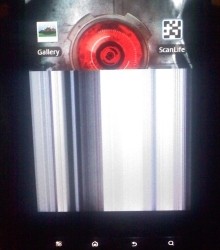 A few days ago, Verizon launched the Motorola Droid X, a very long awaited Android powered phone. Verizon sold a lot of Droid X units, and they are very happy with it. But some users complained that they are facing some screen issues with their lovely Droid X, the display starts flickering and vertical banding over all the screen, or half of it. Users don't need to worry about this problem because it's not a common problem like the iPhone 4 antenna issue, only 1% users complained. If you are facing the display problem, then reach Motorola or Verizon as fast as possible, they will take your current Droid X back, and will give you a new one.
I love that the Verizon and Motorola confirms that there is a problem in Droid X, they didn't blame anyone or say that these are just rumors like Steve. Have a look on what Verizon said:
"Verizon Wireless and Motorola are aware of a very small number of DROID X units that have experienced a flickering or banding display. Motorola has resolved the issue and is continuing to ship the phones. Any consumer who experiences a flickering or banding display should contact a Motorola customer support center or Verizon Wireless."
So people if you are planning to buy a Droid X, then don't step back because it's not going to be happen with your lovely Droid, but if it happens, then just hit your local Verizon store.
Do you want to see how the display issue looks like? Then have a look on the videos after the break.
httpv://www.youtube.com/watch?v=mFqIOmmFQ48&feature=player_embedded
httpv://www.youtube.com/watch?v=ZRFX0t7cDb4&feature=player_embedded
via Engadget