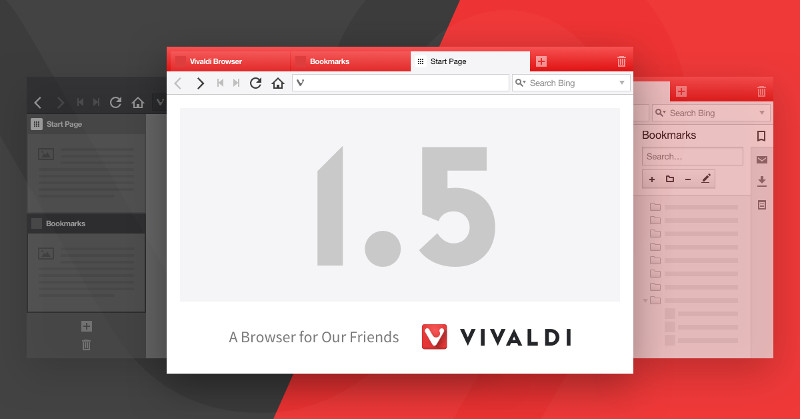 Vivaldi browser developed by a founding team of browser pioneers, lead by Jon von Tetzchner, who co-founded and led Opera Software was launched back in April this year. It had received several updates since the launch, now the latest update version 1.5 brings ability to alter smart-home lighting levels with support for Phillips Hue lights, making it the world's first web browser that controls lights. It also brings new Reader mode, option to drag several tabs at once between windows with ease and more.
New features in Vivaldi 1.5
Integrates with Hue color lights from Philips. After enabling Hue in Vivaldi Theme Settings, a tap on the Philips Hue Bridge confirms the connection. Selecting which lights Vivaldi should control, the browser will synchronize your physical surroundings with the color of the web.
Added the capability to drag tab stacks and tab selections, making it even faster to move tabs between windows. Tab Stacking lets you create 'folders' of tabs. Just drag one tab on top of another and you've got yourself a tab stack.
Reader mode button in address bar allows you to remove the clutter for better readability.
Vivaldi now offers delta updates for Windows versions as of now, which means only the changes from release to release are downloaded, rather than the entire binary. This results in a smaller download that transfers faster, which is great for users with slow connections.
Automatic screenshots in Notes. If you add a note from selected text on a web page, the note will automatically include a screenshot of the page. This is on by default and can be turned off in the settings.
Vivaldi browser is available for Windows, Mac and Linux and can be downloaded from vivaldi.com