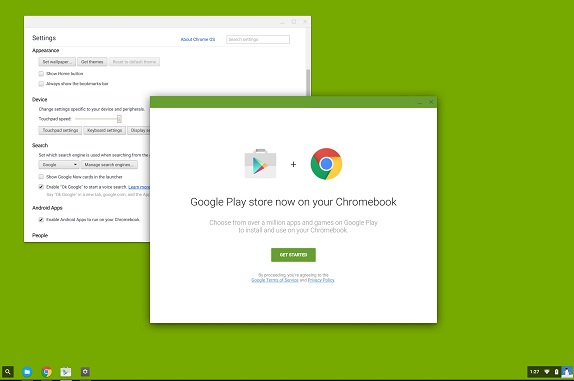 Google had initially rolled out Google Play Store to some Chromebooks soon after the Google I/O event. The only Chromebook with Android app support was the Asus Chromebook Flip previously.
However, after a long gap, the company started rolling out developer update to Chrome OS that will support Android app to some Chromebooks including Dell Chromebook 13, HP 13, Samsung Chromebook 3, and ASUS C301SA users.
Moreover, the Google has also promised to roll out the update for wide range of Chromebook in future. In order to have access to Google Play Store, the user needs to upgrade to the developer channel. In order to run the developer version of Chrome OS, you need to head on to About Chrome OS -> More info -> Change channel and select the developer channel.
Once you change, the device automatically installs the update and prompt you to restart it immediately. However, the developer version is not stable and you might face issues time to time as well. Before installing this update, make sure to back backup your important files.