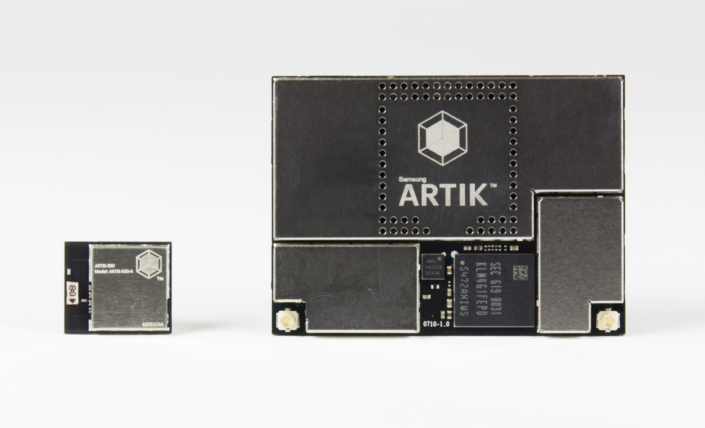 Samsung has introduced two new modules ARTIK 0 and ARTIK 7 in its ARTIK Smart Internet of Things (IoT) platform. 
The ARTIK 0 module enables low-power, lightweight, cost-optimized devices targeted at end-devices including HVAC, lighting, industrial sensors, personal health monitoring and more. The modules are built on power-optimized ARM Cortex-M microcontrollers and support low-power wireless standards, such as the ZigBee, Thread, or Bluetooth Smart standards.
The ARTIK 7 module is intended for high-end gateways and multimedia applications. It comes with an 8-core 64-bit Cortex A-53 processor and provides connectivity, with built-in Wi-Fi, Bluetooth, ZigBee, Thread and GbE MAC interfaces. It has a high-end multimedia processor for video and audio processing. The pre-installed Linux operating system (OS) speeds time to revenue by providing a powerful OS supported by an extensive developer community.
Youngsoo Do, Senior Vice President of Digital Control Group, Samsung Electronics,
Internal groups at Samsung are leveraging the SAMSUNG ARTIK platform to build fresh new IoT solutions of their own. For example, Samsung's Consumer Electronics division has leveraged the SAMSUNG ARTIK platform to create an IoT smart air purifier. The SAMSUNG ARTIK platform allowed us to cost-effectively build prototypes of our new solution and quickly get it to market. With the SAMSUNG ARTIK platform, we also have the ability to connect intelligently to other smart devices, as well as to the cloud, which enables new use cases.
The new SAMSUNG ARTIK modules are available for order immediately and worldwide through distribution partners, Arrow, Digi-Key and Mujin.