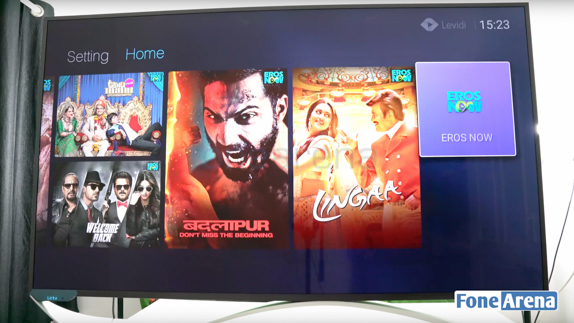 Some say that TVs are a dying breed and that portable entertainment will eventually kill the TV. However, that is a statement that we've been hearing for years and the TV has not just survived but is growing bigger and bigger in size while gaining new features and tech in the process. 4K TVs are the "it thing" these days and few get bigger and badder than the LeEco Super3 X65 4K Smart TV. So let's take a look at just how good or bad it is.
Unboxing
We already unboxed the LeTV Super3 X65 4K TV and the unboxing process took a whole lot longer than you would even take to say the model name. However, its worth the effort and is a really nice experience. You can check out our unboxing video below:
Here are the contents of the box:
LeEco/LeTV Super3 X65 4K TV
Cloud Base
Super Remote Control 3
2 AA Batteries
Quick Start Guide
Mounting Kit (Includes Screws)
3 in 1 Adapting Kit
Design
Let's start with the size. This thing is a behemoth and that's a given considering that you are getting 65 inches of screen estate. However all that surface area is utilized really well and the components inside are packed neatly into a really slim metal frame. Its real metal (aircraft grade brushed aluminium), not plastic that is made to look like metal and as a result, it is cold to the touch.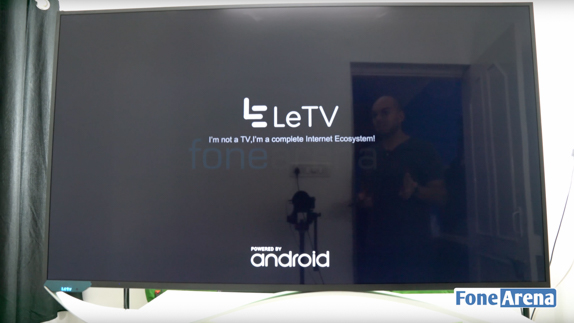 The panel itself is just around 10.9mm thick all the way through but the additional peripherals and ports at the back add thickness towards the lower thirds where it peaks in terms of thickness at 49mm. The entire TV is built like a tank and it looks beautifully elegant even when it is turned off. You also get diamond cut chamfered edges at the front and back bezels.
This is true especially if you have docked it onto the Cloud Base which is what LeEco are calling the bottom mounted TV stand. The reason it is called so is because it has this wavy pattern that resembles a cloud and feels as if the TV is just resting gently on a cloud. This stand too is made of metal and gets fastened to the center of the TV as well as the left corned for added support and to prevent any shaking. The entire setup with the stand attached weighs in at around 29 kgs.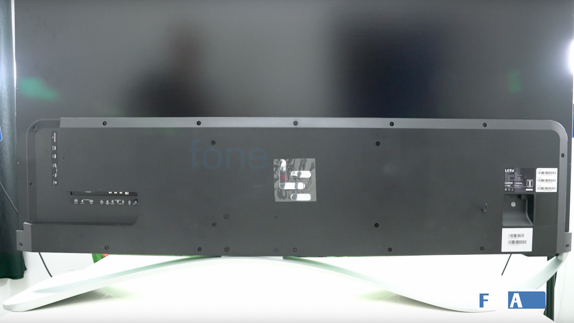 LeEco also bundle a magnetic attachment that can be used to connect the upper portion of the TV to the wall to prevent it from tipping over since it is quite tall and heavy. The TV surely would look great if and when wall mounted too- almost like an art installation however, we went with the Cloud Base since it is easier to move around ("easier" being the key term here).
The bezels are really minimal and the entire TV feels like a giant mirror with just a slightly larger bezel at the bottom left corner that houses the LeTV logo and the IR receiver. The LeTV logo glows when the TV is on and can also be set to give a dim glow when the TV is off or be turned off altogether.
Connectivity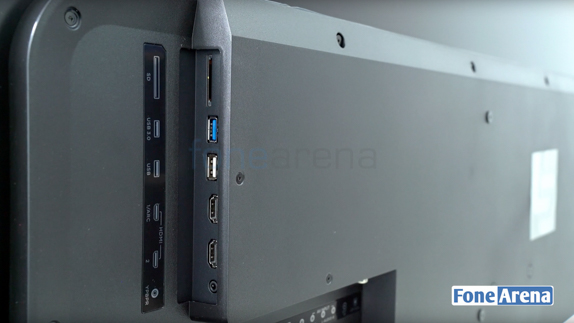 It terms of connectivity, there may be very few that can beat the Super3 X65. All the ports are located at the right hand corner behind the TV. The more commonly used ports are located at the right side such as the USB 3.0 port, USB 2.0 port, SD card reader, 2 HDMI inputs and a component input port (YPbPr).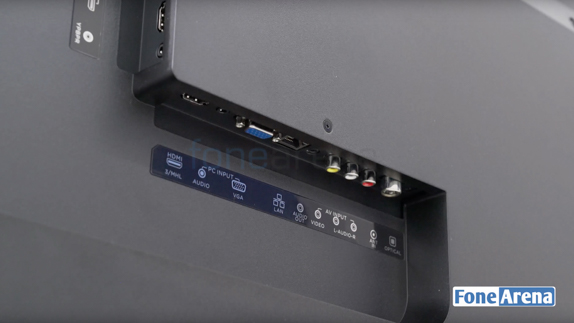 The less commonly used port i.e ports that you would ideally require access to mainly while setting up are downward facing and this helps cable management as well. Here you have the HDMI, VGA, Ethernet, Composite, Antenna port and optical audio out port. The power socket is on the left bottom side of the TV at the back. The power cable is removable and comes bundled in the box.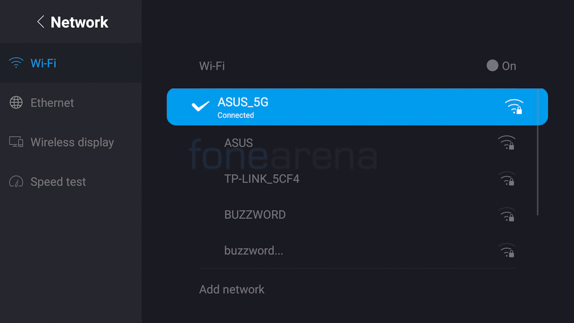 That takes care of the wired connections. Coming to wireless connectivity, the TV is equipped with dual-band WiFi 802.11ac as well as Bluetooth 4.0. We were successfully able to connect the TV to both 2.4 as well as 5GHz networks and delivered consistent results in terms of speed.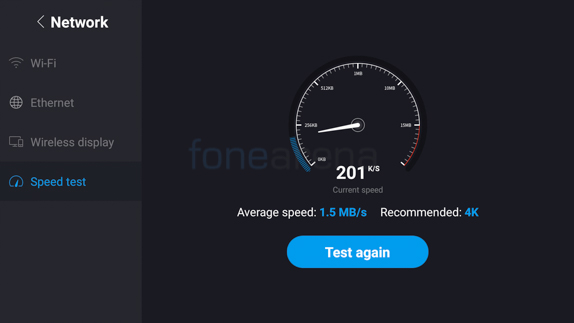 We were able to connect other bluetooth devices such as speakers and even the Mi Gamepad which we used to test out the gaming. The TV is compatible between 100-240 Volts and is rated at 150W (Standby Consumption is less than 0.5W).
Panel
The panel size stretches 64.53 inches which is just shy of the advertised 65 inches. However, for all intents and purposes, one can consider this to be the same. It's hard to describe just how big the screen is and how immersive it can be when watching content on it. It really has to be seen and experienced in person.
The panel is an LED one that has a resolution of 3840×2160 pixels which means it supports upto 4K UHD resolution and not 4K DCI (Digital Cinema Initiatives) which needs 4096×2160 pixels. However, most 4K TVs follow the UHD standard and that really isn't a negative but we are stating it to keep you informed.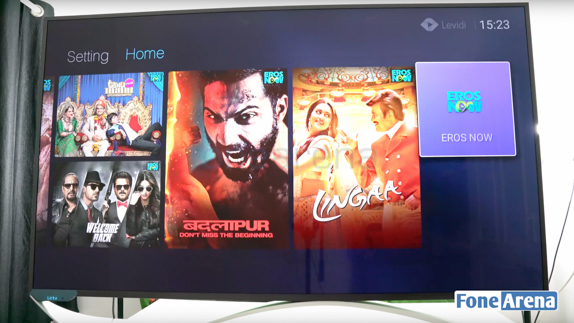 The TV boasts a very wide 178 degree viewing angle and that means there's barely any colour variation or discoloration at extreme angles even. The panel can output upto 350 nits of brightness which we found to be more than sufficient.
The panel is very reflective though and if you are in a house with a lot of natural light coming indoors, we would suggest facing the panel away from the source of light or angle it in such a way that the light does not directly hit the panel and cause glare. Glare can strain your eyes and give your headaches and also cause issues with your eyes in the long run.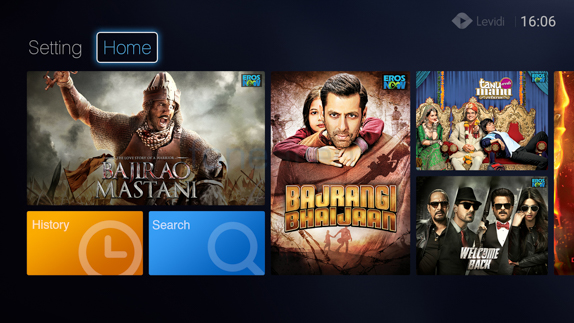 Also important to note that since the panel is so big, you need to position yourself at a safe distance for the same reasons as stated above. An ideal viewing distance would be around 8 feet away from the TV. The bare minimum is around 3 and a half feet but even then we wouldn't recommend watching the TV at such a short distance for any prolonged duration.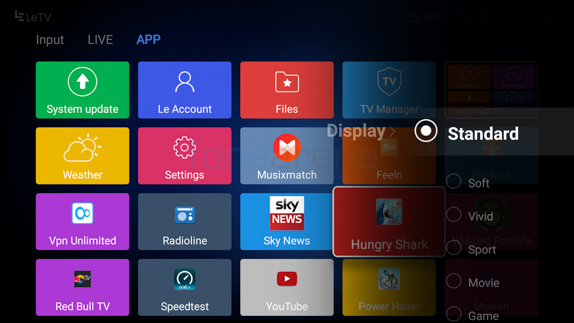 The panel quality seems quite good but I can't help but notice how it seems visually inferior to the other 4K TVs that I have seen in the past and that even includes the VU Iconium 65 inch 4K TV which was one of the cheapest 4K TVs of this size in India prior to the arrival of LeTV. The brightness is great and the contrast ratio is decent too but the Super3 X65 doesn't seem to resolve the same amount of detail as its competitors.
The contrast ratio of 4000:1 too isn't that impressive in real life even though it may seem good enough on paper. At times, the images do seem a bit washed out. The panel does not support HDR video either. Users can choose various display modes such as standard, soft, vivid, sport etc based on the content that they are watching.
Performance
The Super3 X65 makes use of a 32bit chipset MSD6A928 which is based on ARM Cortex A17 with 4 cores clocked in at 1.4GHz. It also has a quad-core Mali-T760 MP4 GPU that supports HEVC/H.265 hardware decoding for 4K resolution upto 60 fps.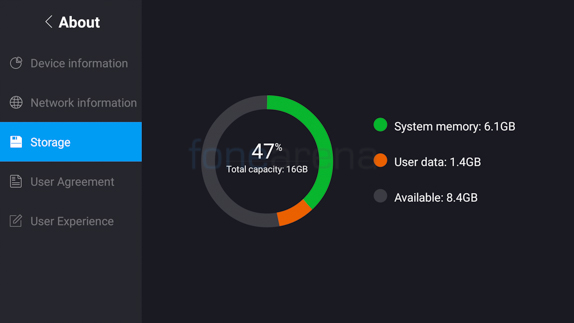 We tested several films and videos that were encoded in both H.264 as well as H.265 at 4K resolution and the TV played them without breaking a sweat. It never stuttered nor did it freeze at any point of time. The 3GB of on-board RAM also does a good job at ensuring this. 16GB of eMMC 5.0 storage is available on the TV and there are plenty of USB ports and an SD card reader to expand storage or connect external media. Out of the box, the user gets 9.5GB of free space.
The TV recognizes FAT32 as well as NTFS formats but does not read exFAT.
Sound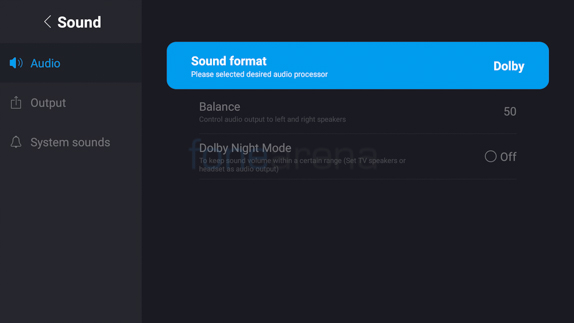 The Super3 X65 has two 10W speakers that deliver quite an impressive acoustic experience. While it does lack the oomph from a sub-woofer, it makes up for in terms of sheer volume and your neighbors won't be too happy with your cranking up the volume all the way up. Either way, if you're investing such a large amount on a TV, chances are that you already have a great sound system to pair the TV to, or planning to get one for the same purpose and we suggest you to do so for a truly immersive experience.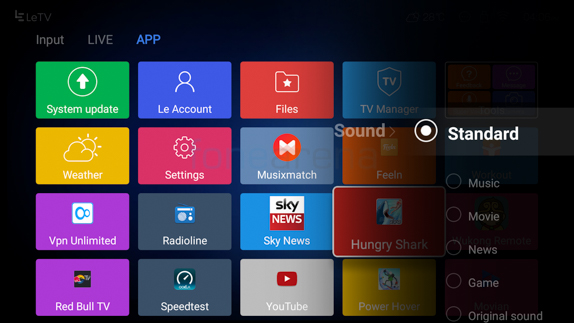 The TV supports DTS Sound as well as Dolby Audio for enhanced listening. You can connect your external audio devices either wired or wirelessly using the various connectivity options.
Software and UI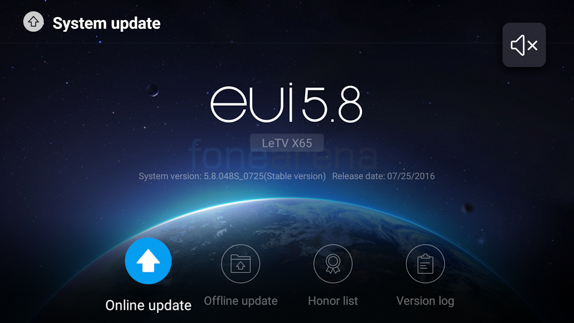 This TV is a smart one and it runs on Android 5.0 Lollipop with EUI on top. That may sound like a good thing at first but I am not so sure. Despite running on Android, there are several limitations to the software and the UI is cluttered and confusing even for the most experienced of Android users.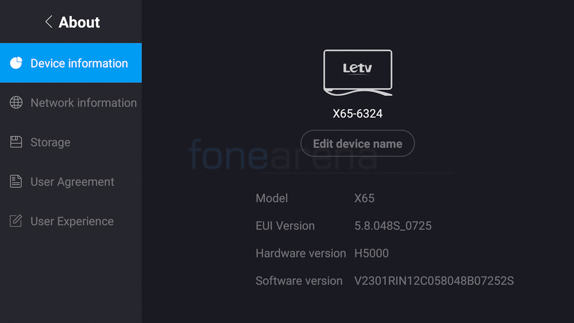 The TV takes quite a while to startup and while it does, it gives you a plethora of colours and bright imagery which could possibly send some of us into a seizure. After the lengthly bootup, you are greeted by 3 modes – Input, Live and "APP". Input is where your DTH connection shows up and you can watch your channels just like you would on any other TV. In case you don't have a DTH at home, don't worry since you can still use the other functions of the TV without it.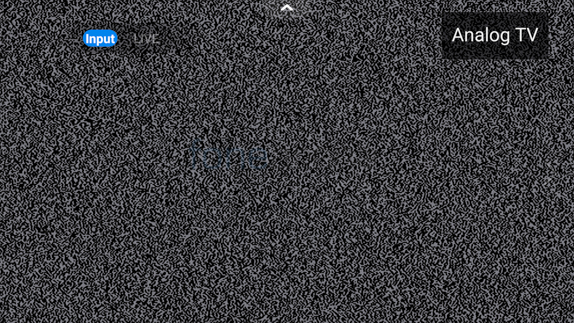 In the Live mode, the TV allows you to stream content from various local and select international channels live. The quality is this varies based on the channel itself but nothing is really worth watching on such a big TV with a dense resolution. Note that the Live function will need an internet connection – either wired or wireless.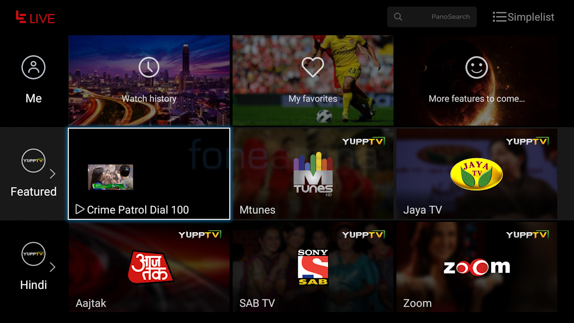 There is a built-in file manager that helps to access local as well as content from external storage. Users can update their TVs using the software update tool and there is a built-in speed test app too. You can install the Ookla Speedtest app too if that is more to your liking.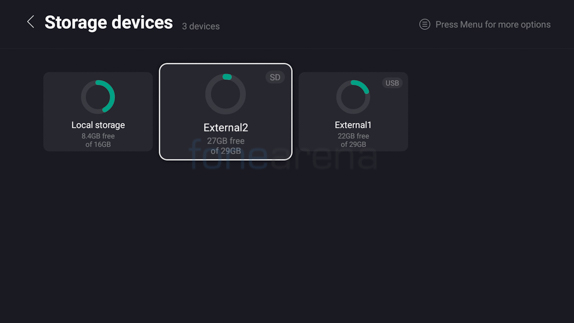 Apps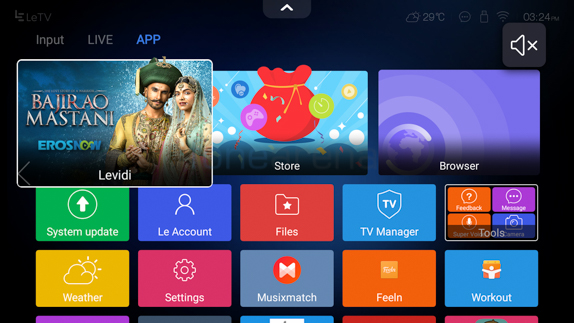 The App mode is much easier to use and is more of a treat than the live mode. There are several apps that come pre-loaded on the TV and you can download additional apps from the store if you want to. Note that there is no Google Play Store on this thing by default but it allows you to install apps from apks. However, we weren't able to run Google Play Store on this device despite installing Google Play Services as well. The default Android version of YouTube doesn't install either but you can install YouTube for Android TV on it and it works pretty well. What we missed is the cast feature that allows your to transfer whatever you are playing on your device to the TV as long as you are on the same WiFi connection. The video output is also limited to 1080p and doesn't allow 1440p or 2160p.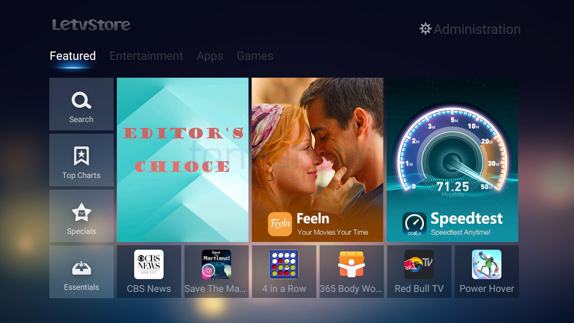 One of the main apps is Eros Now where you can stream high quality Bollywood films for free. Buyers of the TV get 2 years of LeEco membership worth Rs 9,800, 2 years of warranty and 4 years of panel warranty as well.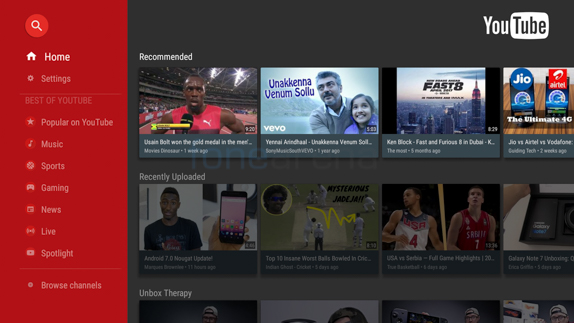 We even tried a few games from the LeEco store that we playing using both the remote as well as the Mi Gamepad. The gamepad was much more intuitive and we suggest that you too use something of that sorts if you are planning to game seriously.
Remote
The remote is quite large and is made of plastic. It has a 4 way d-pad and a confirmation key in the centre. You have the channel and volume keys along with a screenshot and mic input key in between them. Additionally, you get the three navigational keys for Android for Menu, Home and Return. At the top you get the power button and mute key below which you find the number pad and settings shortcut as well as the air mouse toggle.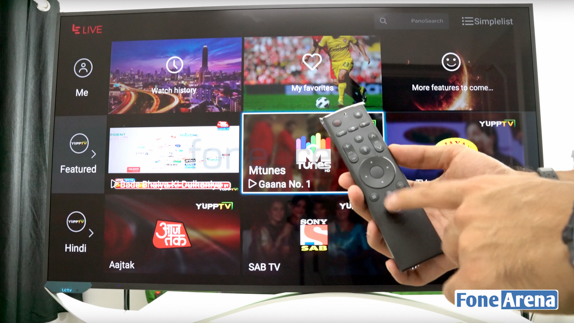 The air mouse feature works just as the name suggests by being a 3D mouse that you can control by moving your hand in the air. It is quite intuitive and really helps be more efficient especially when wanting to input letter onto the on-screen keyboard. The mic feature didn't seem to work and was shown to be a feature that is currently being developed. It is powered by 2 AA batteries which are included in the box itself.
Conclusion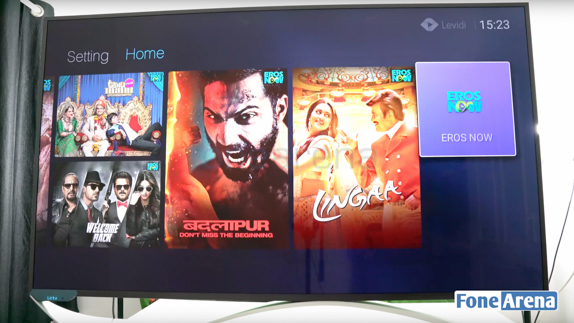 The TV market is most definitely not on a downward slope, at least not yet and not in India. People are looking to go big on entertainment and with 4K content becoming more and more accessible, the need for 4K TVs are also on the rise. The main issue however is the cost to acquire one of these innovative pieces of technology. LeEco is attempting to do with their TVs something that Moto and Xiaomi did in India a few years ago with their smartphones. By undercutting the competition in terms of pricing, they are hoping to capture a larger percent of market share. There are a lot of people who are on the verge of buying a 4K TV but the price has been the one factor that has caused them not to take the leap yet. The Super3 X65 isn't perfect. The panel isn't the greatest and the software is still a work in progress at best. However, it is possibly the best 4K TV in India available at the moment when you look at the price to value ratio. It not disappointing, and yes it could've been better but it's still good. The LeEco Super3 X65 costs Rs. 99,790 and is available through flash sale from LeMall and Flipkart.
Pros
Beautiful and Elegant Design
Huge Screen Estate and Bright Panel
Powerful Hardware and Decoder that allows High Quality 4K Content and Gaming
Wide Range of Connectivity Options
Good Audio Quality
Cons
Software and UI Needs Refinement
Can't Run Google Play Store, Play Services etc even when Sideloaded
Panel Lacks Detail and Contrast found on Other 4K TVs