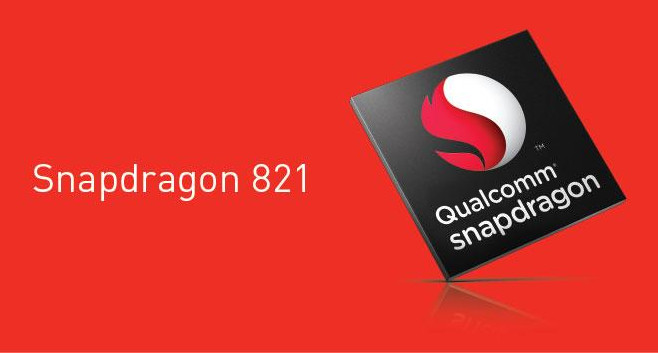 Qualcomm just announced Snapdragon 821, the company's latest high-end processor in the Snapdragon 800 series. This promises 10% faster performance than its current flagship Snapdragon 820 SoC that power most of the latest flagship smartphones such as LG G5, HTC 10, OnePlus 3, Xiaomi Mi 5, Sony Xperia X Performance and more.
This has up to 2.4GHz quad-core custom 64-bit Qualcomm Kryo CPUs, compared to 2.2GHz in Snapdragon 820. It did not reveal the clock speed of two
Qualcomm did not reveal if this would use the same Adreno 530 GPU, but the clock speed will likely be higher than 624 MHz in the Snapdragon 820.
Other features are similar, including integrated 600 Mbps X12 LTE modem, Support for up to 4K Ultra HD and Qualcomm Quick Charge 3.0.
Qualcomm said that Snapdragon 821-powered devices can be expected in the second half of 2016.
According to earlier rumors, two HTC Nexus 2016 devices, Samsung Galaxy Note7 and other flagship that are coming later this year and early next year are expected to be powered by the Snapdragon 821.
Regarding the latest flagship processor, Qualcomm said:
Rather than replace the Snapdragon 820, the 821 is designed to complement and extend the competitive strengths of our Snapdragon 800 lineup.

Because the Snapdragon 820 helped improve the user experience for mobile imaging, virtual reality, battery life, and connectivity speed and reliability, all the updates we've included in Snapdragon 821 will help keep devices powered by Snapdragon 800 premium-tier processors at the top of people's shopping lists into the foreseeable future.