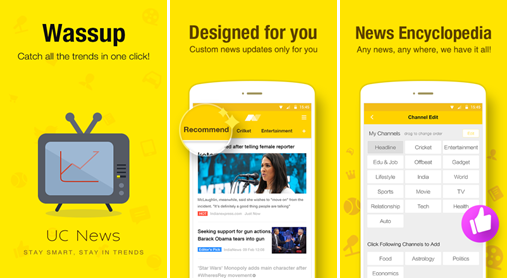 UCWeb, part of Alibaba Mobile Business Group has launched UC News App, exclusively for India. The app is powered by big data technology and offers trending and curated news content from different categories catering to Indian users.
UC News comes with over 20 featured channels including news, cricket, technology, entertainment, movies, lifestyle, health, humour. The app tracks and matches the trending keywords on Facebook, Twitter, and decides on the trending topics before recommending them to the user. It also allows users to customize content subscription, as they can choose any kind of content they wish to consume.The app will use big data tech and customization to offer personalized news. The company has forged partnerships with content producers like Cricbuzz, Twitter and Bing. It will offer vernacular languages support in the coming months. UC News is planning to partner with self-publishers and key opinion leaders in the future for original content.
UCWeb also announced that UC Browser India's monthly active user base has reached 80 million and according to StatCounter, it is the most used mobile browser in India with over 58% market share as of May 2016. UC Browser's usage data shows 73% of its 80 million MAU are tagged as "News Feeds Consumers". On an average, each UC Browser's Indian user consumes 6 pieces of news/feeds per day.
Commenting on the new strategy, Kenny Ye, General Manager of UCWeb, Alibaba Mobile Business Group said,
Digital content consumption is on the rise and the challenge is how we can customize, curate and present diverse content to users. Content providers face difficulties in distributing content of different formats, while consumers are swamped by an information overload. Our answer to these challenges is to position ourselves as a content aggregator. The newly launched UC News and upgraded UC Browser for India are two contemporary products embedded with the aim of content aggregation." The revamped UC Browser also features UC Cricket, an in-app, all–in-one cricket content hub.
Play Link – UC News