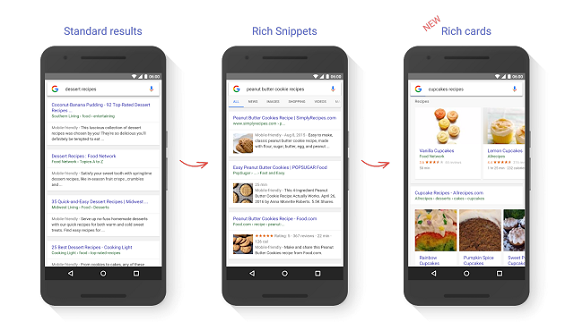 With an aim to provide an enhanced mobile experience, Google is rolling out 'rich cards' for mobile search which displays content in more engaging and visual format.
For starters, Google is restricting rich cards for searches related to recipes and movies. For example, you can build a richer preview of your content with a prominent image for each dish, if you have a recipe site. Rich cards for these two content categories will appear initially on mobile search results in English for google.com.
The rich card results are presented in a horizontally-moveable carousel, designed to be better suited to searching on mobile devices. Google says that rich cards is build on companies rich snippets which also uses schema.org structure markup. The company states that rich cards will help publishers to stand out in Search results and attract more targeted users to your page. The company is exploring ways to extend this feature to more publishers.