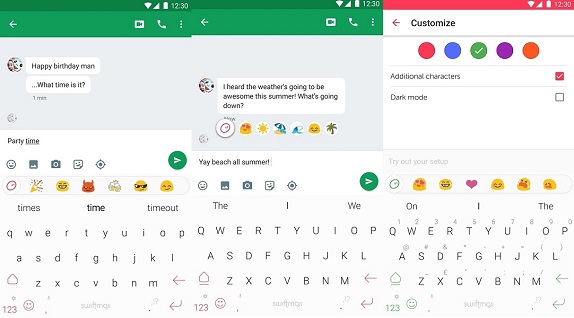 Swiftkey has rolled out a new keyboard in beta that supports emoji prediction. Dubbed as Swiftmoji, the keyboard predicts emojis and helps you access them faster.
The main aim of the keyboard is to make emojis easily accessible. The Swiftmoji keyboard is similar to any other QWERTY keyboard and offers word predictions and gesture typing. However, it sports a Emoji Prediction Row or Bubble on top that shows the emojis based on your text. For example of you type word like vacation it will show you emojis like a happy face, airplane, beach, sun and so on. It also accurately shows emojis for excited, sad, sleepy, love, angry and much more. The keyboard basically offers emojis at the forefront instead of letting you search for them manually.
Similar to the Swiftkey board you can undock the keyboard and place it anywhere on the screen, change the size of the keyboard. It even offers detail stats like typing heatmap, most used emoji and so on. The Swiftmoji keyboard is currently in beta and in order to try it you will have to become a tester by joining the program here. After becoming a tester you came download the Swiftmoji app from Play Store.