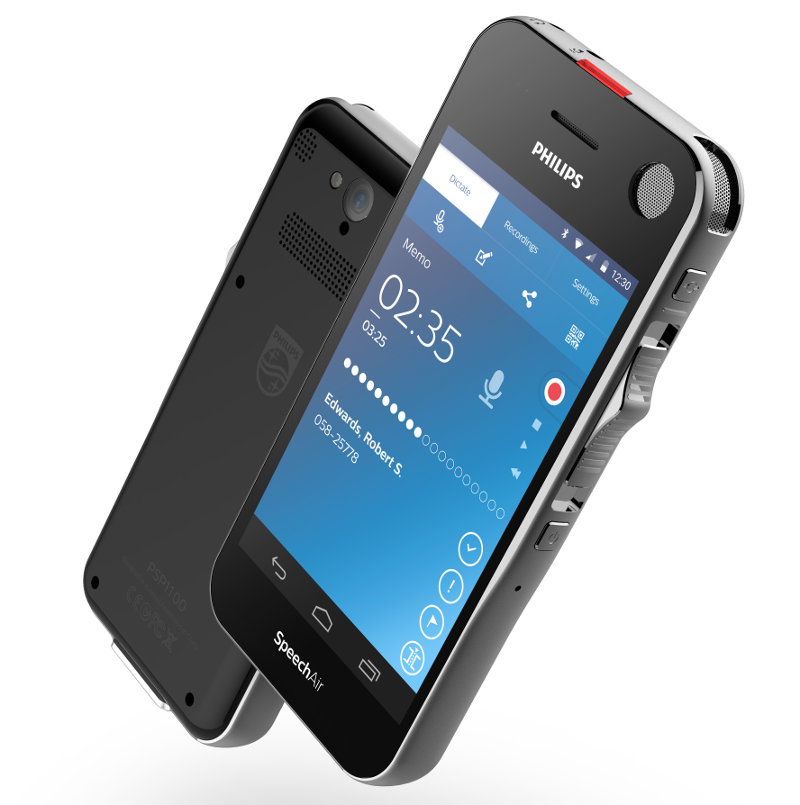 Philips recently introduced SpeechAir, its new voice recorder powered by Android Kitkat developed by Speech Processing Solutions. It has three microphone, a 360° microphone for recording dictations and meetings, a directional microphone for speech recognition, specifically designed for ambient-sound environment and a MEMS microphone for taking VoIP phone calls.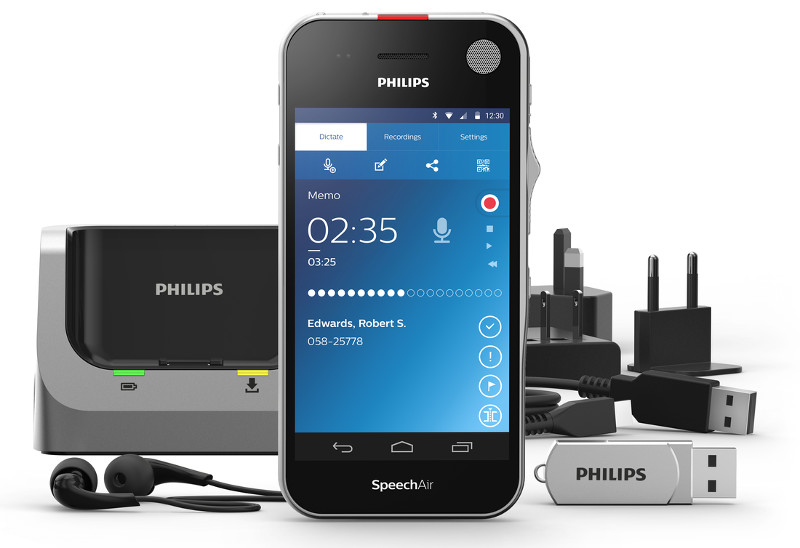 All the SpeechAir recordings are encrypted in real time using AES, 256-bit. In addition to Corning Gorilla Glass protection, the housing is made of antimicrobial synthetics that work against bacteria and various microorganisms. The device also also has shockproof body of US military standard 516.6.
httpv://www.youtube.com/watch?v=0L_ZRz6fTa4
It has wear-free slide switch designed for efficient single-handed operation. It allows for quick and easy file operation (play, pause, stop, fast forward, fast rewind). A customizable function key above the slider gives quick access to the app. It also has a docking station that automatically transfers all your recordings to your computer and quickly re-charges your device. The LAN connection allows you to transfer your files directly from the station without having to use a computer.
Philips SpeechAir specifications
4-inch (480 × 800 pixels) IPS display with Corning Gorilla Glass protection
1.6 GHz dual-core Cortex A9 processor
1 GB DDR3 RAM, 16GB internal storage
Android 4.4.2 (KitKat)
5MP rear camera
Barcode scanner
360º microphone, directional microphone and MEMS microphone
Shockproof body, antimicrobial housing
Dimensions: 62×127×15mm; Weight: 116g
WiFi 802.11 a/b/g/n, Bluetooth 4.0, USB 2.0
2700mAh battery
The Philips SpeechAir is targeted at legal and medical professions and will be available in two versions – PSP1100 and PSP1200. The PSP1200 also includes a SpeechExec Pro Dictate workflow software. No details about the pricing yet.