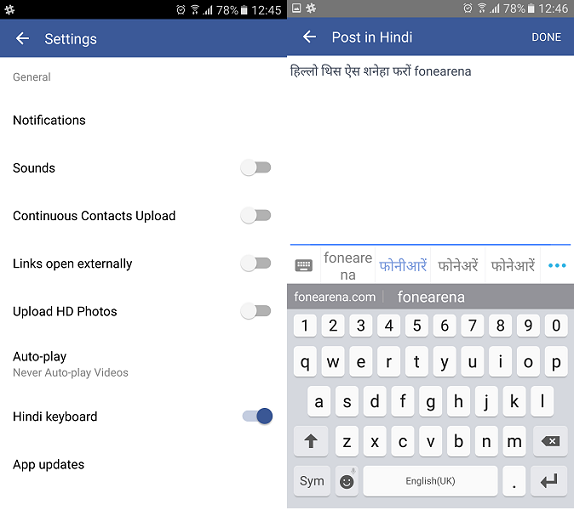 Facebook has launched a new Hindi transliteration feature for its Android app. The new feature allows users to type in English and convert it to the Devanagari script.In order to use this feature, users will have to head to App settings you will see a new Hindi keyboard option. Enabling it will add a small keyboard icon below the text field where you have buttons for adding photo, tagging friends, emoticons and location. Tapping on the keyboard icon will allow you to post in Hindi.
The company said that this feature has been added based on feedback they have received from users wanting to type in the native Devanagari script instead of the Roman script. There is also an option for users to type in the characters if they do not see the correct suggestion. Facebook says the tool will ensure that users don't have download a separate keyboard app or switch keyboards when they want to type in a different language. The tool will also remember the phrases a person uses the most.
Facebook stated in a statement that,
We've heard feedback from people that they'd like to read and write in their native Hindi script on Facebook. So we are now rolling out a lightweight Hindi editor inside the Facebook app for Android phones. When the app setting is turned on, a button is added to the bar where you type updates and comments, which automatically transliterates Roman characters to Hindi script.
India is the second largest market for Facebook and hence it only makes sense that the company is adding features that cater to the Indian users.
Play Link – Facebook