Twitter has announced that it is ending support for its standalone TweetDeck Windows app starting April 15th. Users will have to access the web version of TweetDeck instead of the standalone app.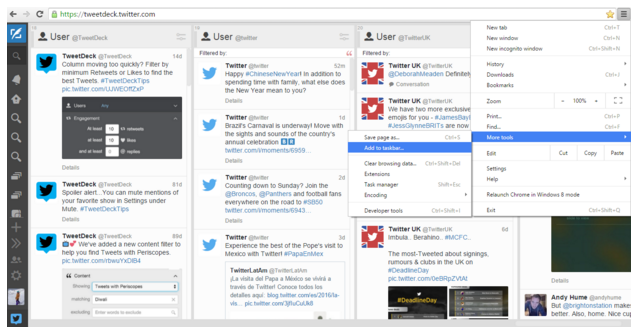 Twitter did not give a reason for killing the app but Amy Zima, Product Manager, Twitter said in a blog post that it is doing it "To better focus on enhancing your TweetDeck experience". The micro blogging site said that it has released a number of features like TweetDeck Teams, group Direct Messages as well as new search filters to make it easier to surface Vines, GIFs, Periscopes, and older content.
In addition, Twitter also announced that it is offering a "more seamless log-in experience". Users will now be automatically logged into the TweetDeck as long as they are logged in on twitter.com or it's analytics page. "When you move from TweetDeck to Twitter websites, or from these websites to TweetDeck, you'll be automatically logged in and no longer need to log in to TweetDeck separately", said Zima in the post.
Chrome users will be able to access TweetDeck by pinning it to the taskbar. You will have to open tweetdeck.com in Chrome> click Customize and control > More tools > Add to taskbar. Following this you can now launch TweetDeck directly from your taskbar. Just yesterday, Twitter released Windows 10 app for mobile.