Google is back with the monthly numbers for Android distribution. The numbers for the month of March reveals that Lollipop adoption has reached 36.1% making it the most widely used version of Android.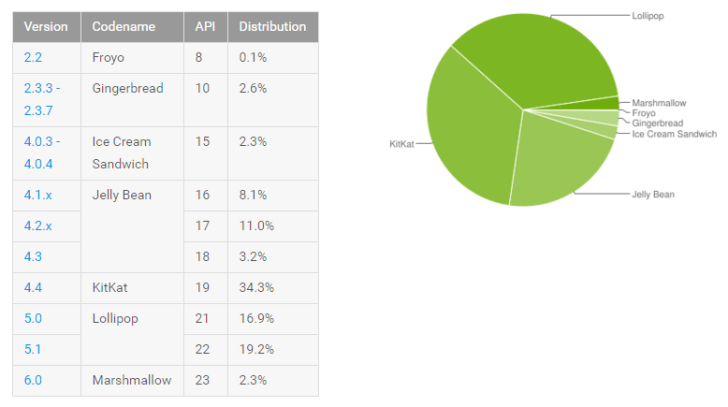 The Lollipop numbers increased from 34.1% to 36.1% this month and it has now surpassed KitKat fully in terms of adoption. KitKat adoption on the other hand has dropped from 35.5% to 34.3%. Meanwhile, Marshmallow is increasing its presence at a glacier pace and is now available on only 2.3% of Android devices, up from 1.2% in February.  Android 4.1.x – 4.3 (Jelly Bean) has now dropped to 22.3%, down from 23.9%. The relatively older versions of Android like Ice Cream Sandwich and Gingerbread are still present on 2.3% and 2.6% of devices. Surprisingly, Froyo is still breathing at 0.1%.
The Android Marshmallow adoption will gradually increase as OEM's are starting rollout for the update on popular devices. Earlier this week, Sony started releasing the Android 6.0 update for the Xperia Z5 line up.