Google is adding an important feature to Docs, Sheets and Slides. The company is bringing the ability to comment in real time in its productivity apps. The mobile commenting feature that was already available  on Docs is now expanding to Sheets and Slides.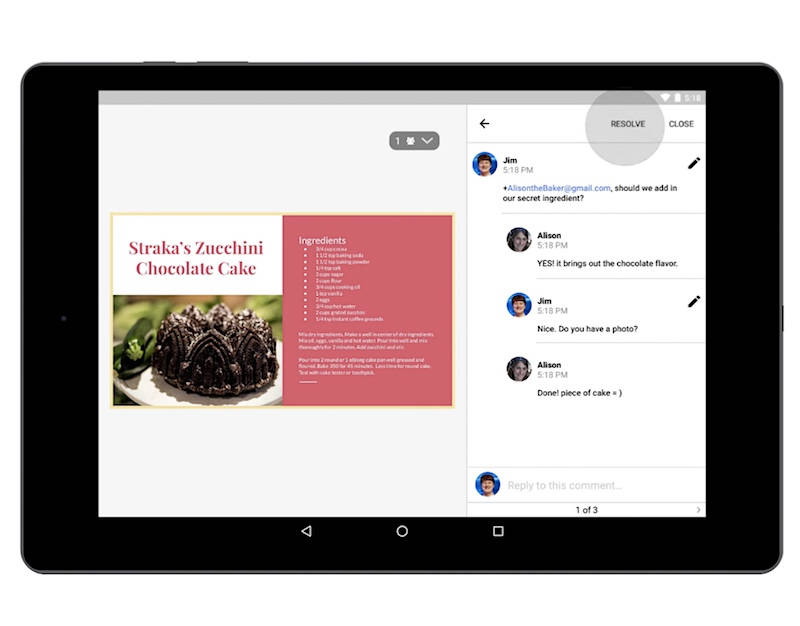 You can now instantly add a comment using the comment bubble present on the right side of a document. In addition, the update lets you add a teammate to the conversation just by starting to type their name in a comment. If the mentioned people don't have access to the file, Google will prompt them to give the access and then notify the people mentioned that they have been included in a conversation. Next up, users can swipe to move between comments in Docs, Sheets, and Slides on iOS, as well as Slides on Android, which brings these apps in line with Docs and Sheets on Android.
Google has even added a new feature to Docs that gives users a button to instantly add a comment when they select text. Going forward, Docs now supports the import of .txt, .rtf and .html formats, while the app's export function supports docx, .rtf, .pdf, .txt., and .html. In Sheets, users will be able to export to .xlsx, .pdf, .html, .csv, and .tsv formats, while Slides supports exports to .pptx, .pdf, and .txt. The Sheets Android app will offer to format your spreadsheet from right-to-left if it learns that you are using a language such as Hebrew.