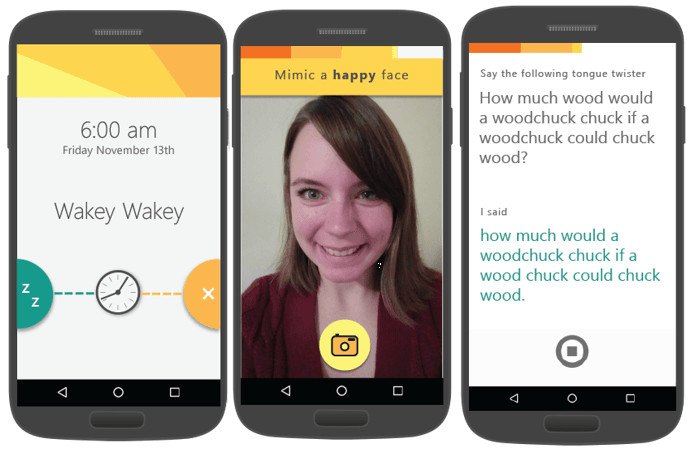 Microsoft Garage has launched Mimicker Alarm app for Android, which helps you get up and stay up by playing a simple game, called a Mimic. To dismiss your alarm, you must mimic the action given. "We might ask you to snap a selfie, speak a phrase, or even get out of bed! The Mimics require you to be alert, smart, and use yourself and surroundings," said the company.
The app uses several Microsoft Project Oxford machine learning APIs that focus on emotion, computer vision and speech. You can also download the source code from Github.
Highlights of Mimicker Alarm

First run experience to help you learn the app
Alarm customization for time, day, ringtone, snooze and Mimic
Multiple Mimics to wake up with: Match the expression, capture the color, complete the tongue twister, or shuffle between all three
Personalized images you can share with friends after each alarm
Download Mimicker Alarm (Free) – Android
Regarding the app, Allison Light, a program manager on a team that develops apps for Project Oxford, said:
We're a lot nicer than other alarms. You start with dismiss or snooze. If you snooze, the default is five minutes to delay the game. If you dismiss, we mute the alarm – but then you have 30 seconds to complete this challenge. And if you don't complete that game in time, we assume you've fallen back asleep and then the alarm will start ringing again. You only need to complete one game to shut off the alarm. You can choose the sounds and which games you want to play.

With Mimicker, we are showcasing several different Project Oxford APIs.We wanted to build a simple app that used Project Oxford to make it unique and interesting. Since we're open sourcing all of the code, we thought an alarm app would be easy for other developers to read the code and see how we used the APIs.