Apple has launched a new app dubbed as Music Memos that lets musicians and songwriters quickly capture, organize and develop music right on their iPhones.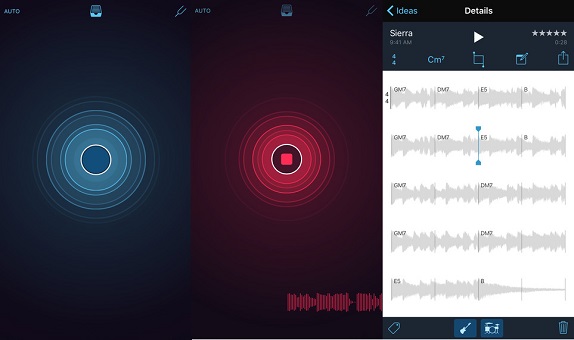 Apple says that the new Music Memos app is inspired by Voice Memos and further makes it easier to record music and write songs on iPhones. The app has an ability to record any musical instrument through the iPhone's built-in microphone in a high-quality and uncompressed format. This music can then be named, tagged and rated in order to build your own library. The app can analyze rhythm and chords of acoustic guitar and piano recordings, and instantly add drums and a bass line to provide a virtual, customizable backing band that plays along to match the feel of your song. Moving on, the Music Memos app can even provide basic notation that displays the chords that were played.  Your Music Memos are automatically available across all your Apple devices due to iCloud and hence you can even open them in GarageBand or Logic Pro X to further develop your songs.
Besides launching the new Music Memos app, Apple has also updated GarageBand (v 2.1) with new features. The app gets a Drummer feature with nine EDM and acoustic virtual session drummers that provide their own signature sound, as well as an expanded selection of amps for bass players. Advanced GarageBand users get access to the new automation features that controls recording and a new simple EQ. The app now supports 3D touch functionality on iPhone 6s and iPhone 6s Plus.
"Musicians around the world, from the biggest artists to aspiring students, use Apple devices to create amazing music; the innovative new Music Memos app will help them quickly capture their ideas on iPhone and iPad whenever inspiration strikes. GarageBand is the most popular music creation app in the world, and this update helps everyone easily tap into their musical talent with the powerful new Live Loops and Drummer features, and adds support for the larger iPad Pro screen and 3D Touch on iPhone 6s and iPhone 6s Plus."

said Philip Schiller, Apple's senior vice president of Worldwide Marketing.
App Links  –  Music Memos and GarageBand