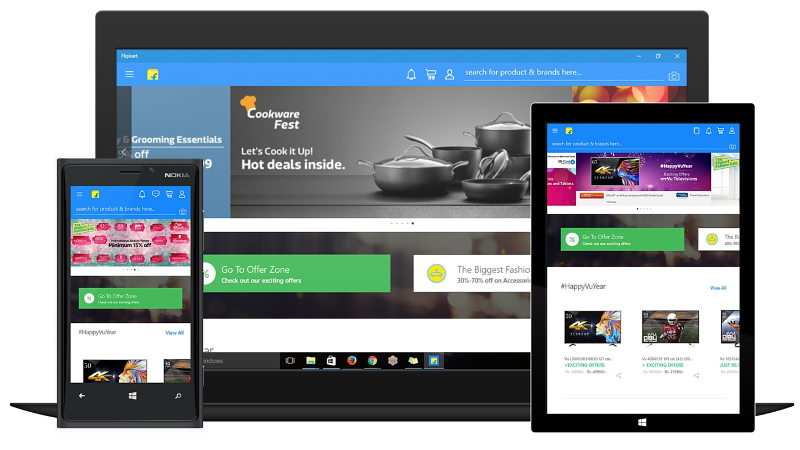 Flipkart has launched its shopping app for Windows 10 PCs and mobile devices, which promises richer, seamless experience across Windows 10 devices. Flipkart said that it has worked closely with the Microsoft team to develop the app for a universal Windows platform.

"The new universal app will offer a more personalized app interface with features such as customized shopping recommendations, merchandising and notifications, and interactive guided search. Additionally, consumers will also be able to avail all the 'App-only' offers right from the app," said the company.
It also said that the new Windows 10 app has been developed specially for hybrid devices (touch and non-touch) and optimized for use of different inputs such as touch, keyboard, trackpad and mouse. The Windows 10 app also has a new product tabs feature that lets users to open tabs in the background to view products later, as well as compare different products for a faster browsing experience.
Download Flipkart (Free) – Windows 10 Mobile and PC
Commenting on the launch, Amar Nagaram, Director, Mobile Engineering, Flipkart, said:
At Flipkart, we strive to innovate and re-invent the customer experience at every touch-point. Over the last few months, we have been working on the Windows 10 platform to create richer and more personalized experience for our consumers. We have been working towards creating a seamless experience similar to that of an app and Windows 10 surely provides opportunities to introduce innovative features.
Harish Vaidyanathan, Director of Independent Software Vendor Programs at Microsoft, said:
The Flipkart app for Windows 10 has been designed to offer a seamless and consistent experience across various form factors. By virtue of an online store being available 24×7, consumers will be able to pick up their selection and shopping process from where they left off across their range of Windows devices. Apart from the added convenience and enhanced experience, consumers will also get access to app-only offers and in-app notifications that will keep them updated on the latest deals and discounts. The new app integrates beautifully with the Windows 10 interface and we're confident that our consumers will love the Flipkart experience.