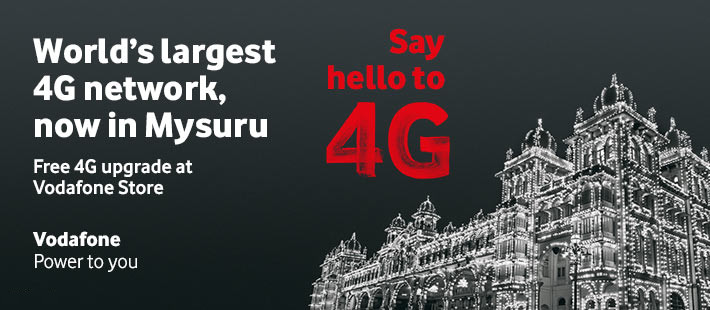 Vodafone has launched its 4G LTE services in Mysore (Mysuru), Karnataka after a month of launching its 4G services in Kerala. It is based on 1800MHz FDD-LTE band 3, which the company acquired last year. "It is built on a strong fibre back-haul, and is supported by new and superfast 3G services on a modern network of 2100 MHz," said the company. Vodafone is offering free 4G upgrade to 4G with instant SIM swap through all Vodafone stores and select retail outlets in the city.
Vodafone will launch 4G services in Bengaluru, Mangalore and Hubli in phased manner and will launch 4G services in Mumbai, Delhi and Kolkata by March 2016.
Commenting on the launch of Vodafone's 4G service in Mysore, Karnataka, Suresh Kumar, Operations Director –South, Vodafone India said:
We are delighted to launch our high-speed 4G services in Mysuru, Karnataka that enable our customers to experience the most advanced wireless broadband experience available across the globe, today. 4G has the potential to revolutionize the mobile experience through powerful innovation that impacts how we work and live.

Karnataka is a significant growth market for Vodafone India with data contributing to 20% of total revenues and growing at a rate of over 50% annually. Beginning with Mysore, we will soon expand our 4G coverage across the state in a phased manner to cover important business and tourism centres including Bengaluru, Mangalore and Hubli.

As a steadfast partner to Digital India, we remain focused on deploying multiple technologies –be it 2G, 3G and now 4G-for optimum use as each technology has its own vital role to play in servicing the myriad connectivity needs of consumers across the country.