Google is working on a new way that allows you to log in to your account without a password. The company is testing a method that lets you sign in with just your phone.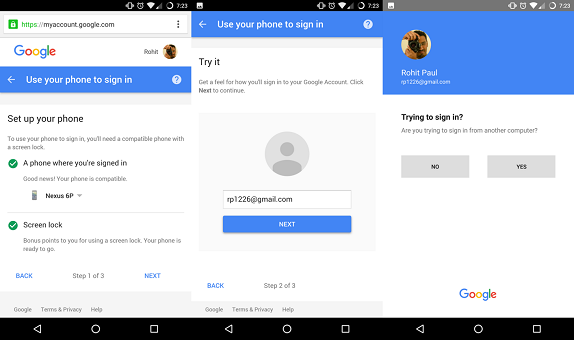 A Reddit user Rohit Paul rp1226 shared his experience about Google's new feature that it is testing on a selected group of users. Once your phone is authenticated with Google, you will just need to input your email address and then you will be granted access when logging in on a new device. The idea behind the new method is to speed up the login process. When you enter your email, your phone will get a notification telling you that someone is trying to sign in from another device. Once you approve the login by tapping yes, you are good to go.
There are no details about where or how can you sign up for this testing trial, mainly because it is in early testing stage. It must be noted that this login method works on both Android and iOS. Testers can turn off this new password free login method any time and they can leave the trial group if they don't want to offer Google their feedback about the sign-in process.
Earlier in October, we saw Yahoo introduce Account Key feature that uses push notifications to provide a fast and secure way to access your Yahoo accounts from your smartphone.