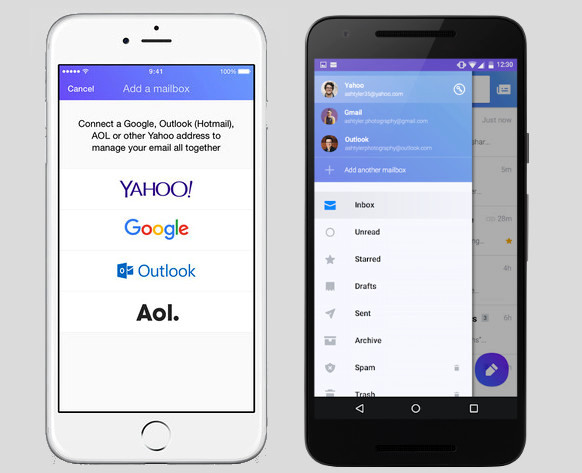 Yahoo Mail got multiple mailbox support that added Outlook.com, Hotmail, AOL Mail accounts so that users can access Yahoo Mail's features such as search, smart contacts and auto-suggest, rich compose across all their emails. Today Yahoo has introduced multiple mailbox support for Gmail and Google Apps accounts.
"You can now search across your entire history of emails, from day one, for all connected mailboxes! (Not just your most recent emails, which is how it's done in many apps today)," said the company. It can also sync every single action across all your mailboxes, like moving emails between folders, deleting emails, marking them as read, etc. In addition to multiple mailbox support for Gmail and Google Apps, Android and iOS apps have also been updated with new features, including Split View for iPad on iOS 9.
New features in Yahoo Mail 5.1.0 for Android

Connect Gmail mailboxes to read, organize, search and respond to your Gmail messages within the Yahoo Mail app
Select all messages in a specific folder on your device – just tap on the select all icon in the upper-left corner when moving or deleting multiple messages
Interface improvements for account switching, settings, touch targets, and message list readability
TalkBack accessibility improvements
Performance enhancements
New features in Yahoo Mail for 4.0.3 for iOS

All of your mail in one place – manage your Gmail and Google app mailboxes with the Yahoo Mail app.
Multitask on an iPad with ease – iOS 9 Slide Over and Split View now fully supported.
Performance improvements – especially when opening messages from notifications.
Download Yahoo Mail (Free) – Android | iPhone and iPad