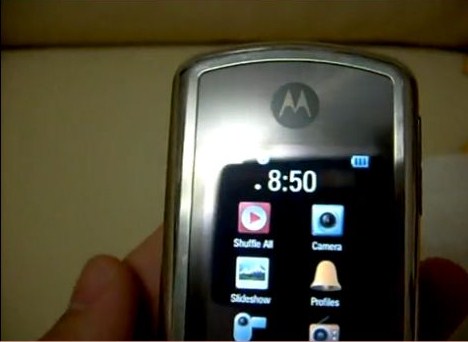 It's been a while since the launch of the Motorola RAZR2 back in 2007. It wasn't nearly as successful as the original RAZR. So it sort of died and people forgot about it. But now Motorola appear to be working to bring back the RAZR with the new RAZR3 series.
This video shows us what is said to be the Motorola RAZR3 phone. It takes off where the RAZR2 had left by following a similar design mixed with the Motorola ZN5 design. The phone looks very shiny in the silver metal.
The front touchscreen is now bigger than the previous model. The camera has been shifted to the back of the casing and it is now a 5 Megapixel Camera with LED flash and possibly an Autofocus.
The speaker grille is located below the front touchscreen. The battery used in the prototype is a BX50 and it may change in the final handset. There is a micro-USB port on the lower left side of the device.
The main camera acts as the video call camera itself when the handset is open. So we assume the phone will be used as a camera in the closed position with controls on the external screen. The metal keyboard still remains. The design has been changed from sharper edges to more rounded edges.
Other features of the phone include GPS, Camera shutter key and keyguard switch.