Recently we had the chance of speaking  to HTC India. HTC who has been known as a PDA player for quite sometime now has made a surprise move by launching the Smart at a Sub 10000 price point. HTC feels that reaching the Sub 10K price point has been an achievement for them.  Dive in to read the full text of the interview.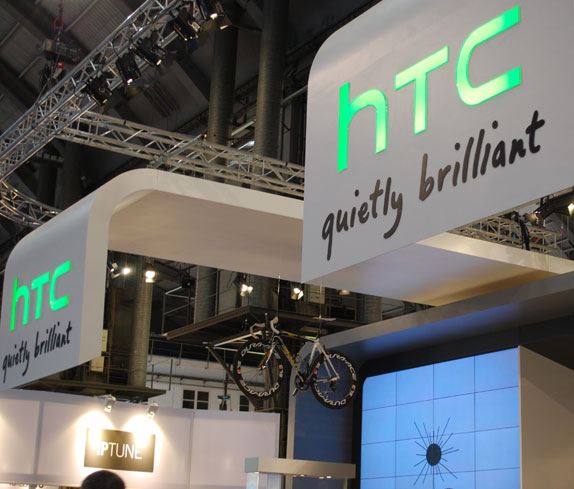 HTC has launched the Smart at Rs.9990 on Airtel's Network and Airtel users get 100 MB for free usage for 3 months along with Free Manchester United content and Music worth Rs.100. The company is also providing Bollywood content in a tieup with mBollywood . HTC is targeting the phone at youth and aims to provide a value for money touchscreen smart phone to Indian users. The HTC Smart is available first in India.
"We have not only achieved a price point but have customized the product for Indian Taste"  says Ajay Sharma, Country Manager, HTC India. He also adds that "We feel we have touched the right spot for people to upgrade from a feature phone to a smart phone."
HTC Smart packs a  similar version of the Sense UI found on company's high-end phones.  Sense UI brings Weather , Social Networking and Email to the Homescreen
You all might be aware about the new YOU campaign from HTC. The company has the following principles with regards to its products Simplicity, Customer Centric , Surprises and Hidden Power.  In fact the company uses Business Cards that highlight these values. The company aims to squash the myth surrounding smart phones by reducing the complexity associated with smart phones.
We asked them about the company's Multi-OS Strategy as HTC makes Windows Phones, Android phones and now BREW .  The company feels different platforms are meant for different target audiences and believes BREW is a very straight forward and lightweight platform and is a good platform for aggressive pricing.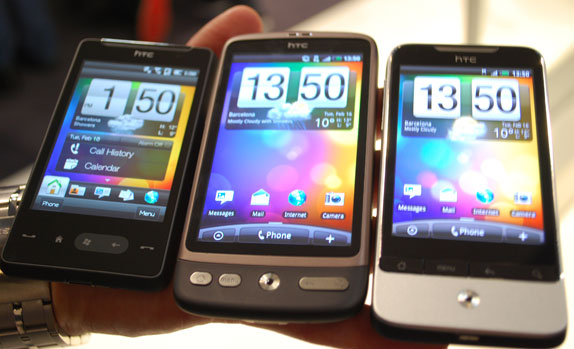 25% of HTC's global workforce of around 10000 works on Research and Development and they are constantly working on new products. Regarding future updates for products especially Android the company says that as long there are no hardware limitations connected to the upgrade , they would releases updates for older devices .
Going forward HTC is planning to launch its devices in India same time as Europe. The company has aggressive plans and aims to transform from a niche player to a mass market player. HTC CEO Peter Chou had expressed the firm's intentions to be one of the top 3 smart phone makers by 2013.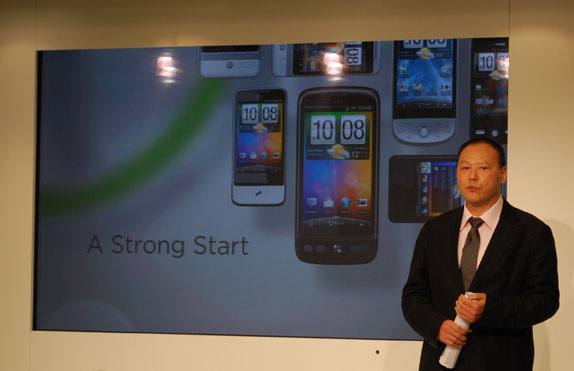 We feel HTC is one of the most promising handset makers in the current marketplace.  They have limited devices in their portfolio which are pretty good in terms of hardware and software.
We asked them if India is Smartphone friendly and about the adoption rate . They feel there are a lot of factors linked to Smartphone adoption such as a Pricing , Education , Data charges. The company feels smartphone adoption will grow as more people learn to appreciate the power of a smartphone.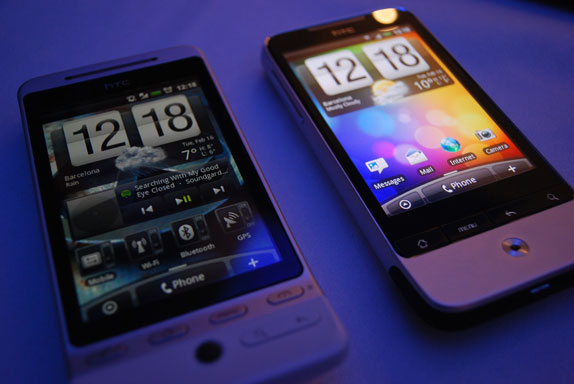 The company is transforming pretty well if you look at the Hero on the left and the Legend on the right. The Hero had won some awards last year and now the Legend is following suit by winning a Best Design Award. We had reviewed the Legend recently and gave full marks for the looks.
And how can one forget the HD2 with a insanely large display. The HD2 is doing a lot of good for them and in fact they are ramping up the production due to the huge demand.
Their portfolio is certainly not bloated unlike other players but HTC still needs to price it's products more aggressively in India considering India is a very price sensitive market. We feel the Legend is a good start.
They are planning to launch the HD Mini soon which will be followed by the Desire towards end of May. There are some new devices which are likely to be announced towards Q3.
HTC hopes to see a lot of a demand for the Smart considering the price point and it has lined up an aggressive marketing plan for the device.