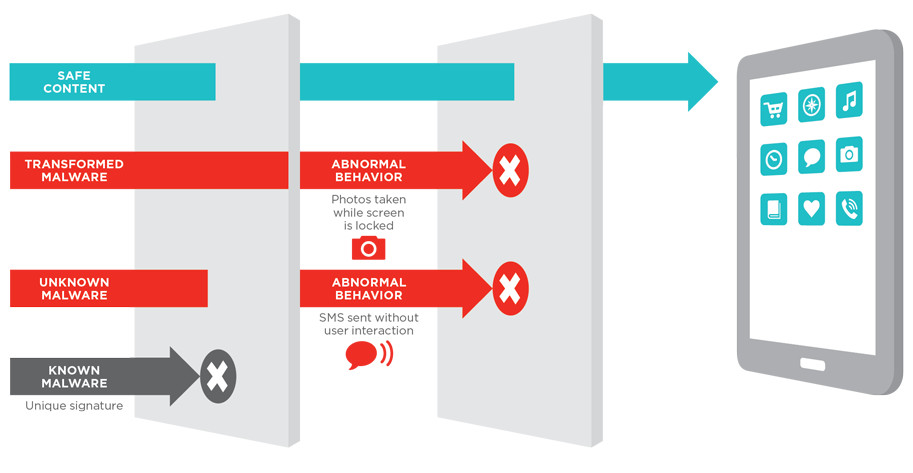 Qualcomm Technologies just announced Snapdragon Smart Protect, anti-malware technology that will be supported by upcoming Qualcomm Snapdragon 820 processor. Smart Protect will provide real-time, on-device detection of unknown (zero-day) malware threats. It uses advanced machine learning-based behavioral analysis to look at actual behavior of device applications in real time and almost instantly detect and classify any application behavior that is considered suspicious or anomalous, said the company.
httpv://www.youtube.com/watch?v=NQUDGGuqzb0
It is also the first application to utilize Qualcomm Zeroth technology, augmenting conventional anti-malware solutions by supporting on device real-time malware detection, classification and cause analysis using an advanced cognitive computing behavioral engine.
Highlights of Snapdragon Smart Protect

Personal Protection – Snapdragon Smart Protect provides robust security and enhanced personal privacy for today's mobile environment, empowering end users with greater control over personal data and by detecting and classifying spyware, adware and other malicious app behavior.
Superior Behavioral Analysis – Using Qualcomm Zeroth cognitive computing technology, Snapdragon Smart Protect enables OEMs and mobile security solution providers to enhance anti-malware and privacy protection services with real-time, behavioral-based machine learning that is designed to detect and classify zero-day and transformational malware.
Power-efficient performance – Snapdragon Smart Protect offers optimal performance through on-device design and uniquely deep access to hardware and software of the Qualcomm Snapdragon 820 processor, enabling malware detection and critical data processing on the device, rather than in the cloud.
The Snapdragon Smart Protect will be available in the first half of 2016 along with Snapdragon 820 processor. Qualcomm also said that Avast, AVG and Lookout are working to utilize Snapdragon Smart Protect capabilities in their mobile applications.