Swype has updated its Android app with new Star Trek themes and emoji keyboards. A total of 19 themes based on Star Trek properties including The Original Series, Next Generation, Enterprise and more have been added.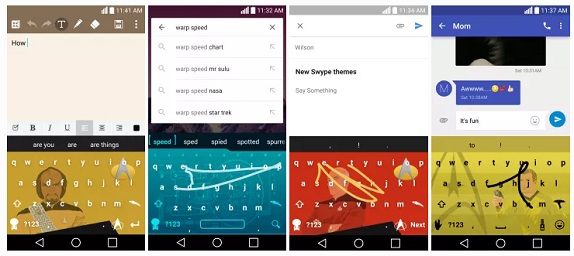 The latest update adds 19 different Star Trek-branded keyboards available for in-app purchase. In addition, the app gets a new emoji keyboard with large number of emojis to enhance your conversations. Next up, the Android app gets phrase prediction capabilities so multiple words appear as a phrase choice as you input text and it can now suggest entire multi-word phrases when typing.  Swype also lists that auto-correction improvements have been implemented, as well as bug fixes and crash fixes. Finally, the app gets better Chinese language support.
"The latest Swype keyboard for Android demonstrates that the keyboard experience goes beyond just the words on the screen, with more options for users to incorporate their personalities and interests. So while we continue to innovate our pioneering predictive input and intelligent tracing technology, we're also focused on equipping Swype with new features and options to give consumers the best possible experience on Android."

said Scott Taylor, senior vice president, Mobile Devices, Nuance.
The Start Trek themes are available from within the Swype Store with a price tag of anywhere from $0.99 to $1.99 each, and bundles start at $2.99. The update with the new emoji features and Star Trek themes is available in the Google Play Store starting today. Swype did not say when they would be coming to the iOS version of its keyboard.
Play Link – Swype Keyboard