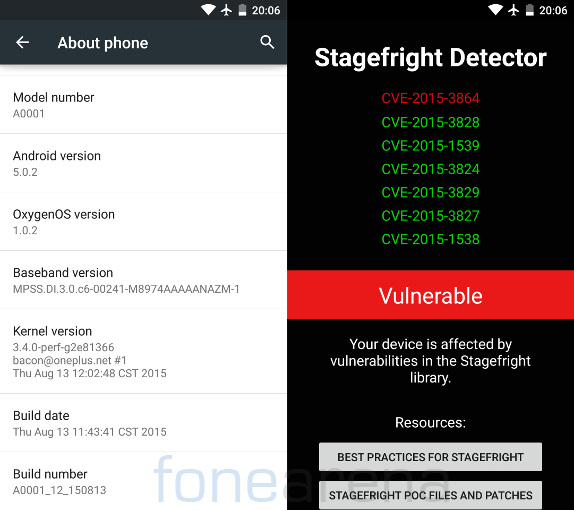 OnePlus released a minor Oxygen OS 1.0.2 update to fix Stagefright security exploit last week. But this doesn't fix the latest vulnerability in the Stagefright library (CVE-2015-3864) that was reported last week. As you can see from the screenshot, this is confirmed by the Zimperium's Stagefright Detector App that got updated to add detection of the latest vulnerability.
Stagefright Android vulnerability allows hackers to get system or media privileges of your device when your device is processing an MMS, without need of any end-user action. OnePlus released a minor OxygenOS 1.01 build for the smartphone to fix the touchscreen issues back in June.
The new OxygenOS 1.0.2 update for OnePlus One is 685MB in size and can download from OnePlus Forum here. Still no word on the OTA update. Hope OnePlus releases another update soon for the smartphone to fix the latest Stagefright vulnerability. OnePlus did not reveal when it will roll out the fix for its latest OnePlus 2 smartphone.
Update 2: OnePlus has released OxygenOS 1.0.3 update for the OnePlus One that includes patches for the latest Stagefright exploit. You can download the update from the OnePlus Forum here.
Update: OnePlus has announced that it will be adding patches for the latest Stagefright exploit and a new update with fixes is expected to roll out by the end of next week.