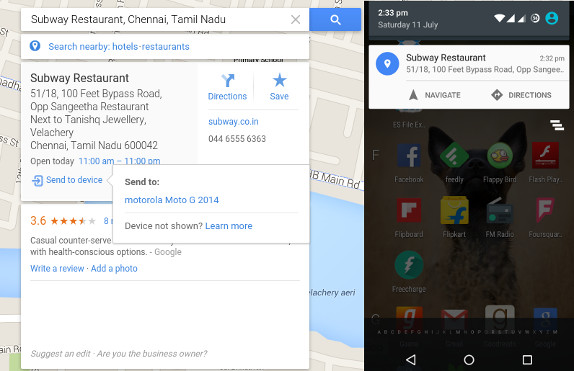 Google Maps for iOS got updated to version 4.7 last month that brought option to send direction from Google Maps desktop to iOS devices. Google Maps for Android now has this feature in the latest update (v9.11.0), as noted by Android Police. This lets you send directions to a place directly to your Android smartphone or a tablet from the desktop. Back in April Google introduced a feature that lets users send directions to their phones from desktop search. 
Once you search for a place on a desktop, after signing in to your account, there is a small 'Click Send to device' option below the address of the location. If you have signed in with the same Google account on several devices, it will show all those devices so that you can send the direction to Any of your Android or iOS devices. Once it's sent, your Android device will receive a push notification with options to Navigate or show Directions to the place using Google Maps app.
Even though several third-party apps already have options to send push notifications from desktop to an Android device, this new built-in feature in Google Maps is definitely a great addition. Update Google Maps for Android to the latest version to try out this new feature.