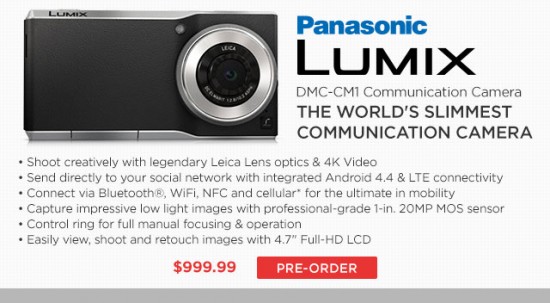 The Panasonic Lumia CM1 which is more camera than phone as it packs a large 1 inch sensor into a smartphone's body is now available for pre-order in USA at a price of US$ 999.99.The phone has a 20.1 Megapixel camera with 1 inch sensor and Leica optics. It is a 28mm lens that has a maximum aperture of f2.8 and the aperture is easily adjustable thanks to the control ring that surrounds the camera module. Users can easily adjust the shutter speed and aperture. Thanks to the large sensor, you can get really shallow depth of field and bokeh especially at f2.8. If you are thinking that phones with f1.8 or f2 aperture don't have that shallow a depth of field then that is because it has a smaller sensor. The one inch sensor on the CM1 is much larger than most smartphones and is as big as the ones found on micro four-thirds cameras.
The device is also capable of recording 4k video at 15fps and RAW image capture. The other features of the device include a 4.7″ full HD display, Snapdragon 801, 16GB internal memory and 2GB of RAM. It still runs on Android 4.4 KitKat and we aren't sure when exactly it will be receiving the update to Lollipop.
The phone is available for pre-order at a price of US$ 999.99 on Adorama which is quite a lot for a smartphone but considering the face that you are getting quite a lot of camera as well, it is probably worth the price.